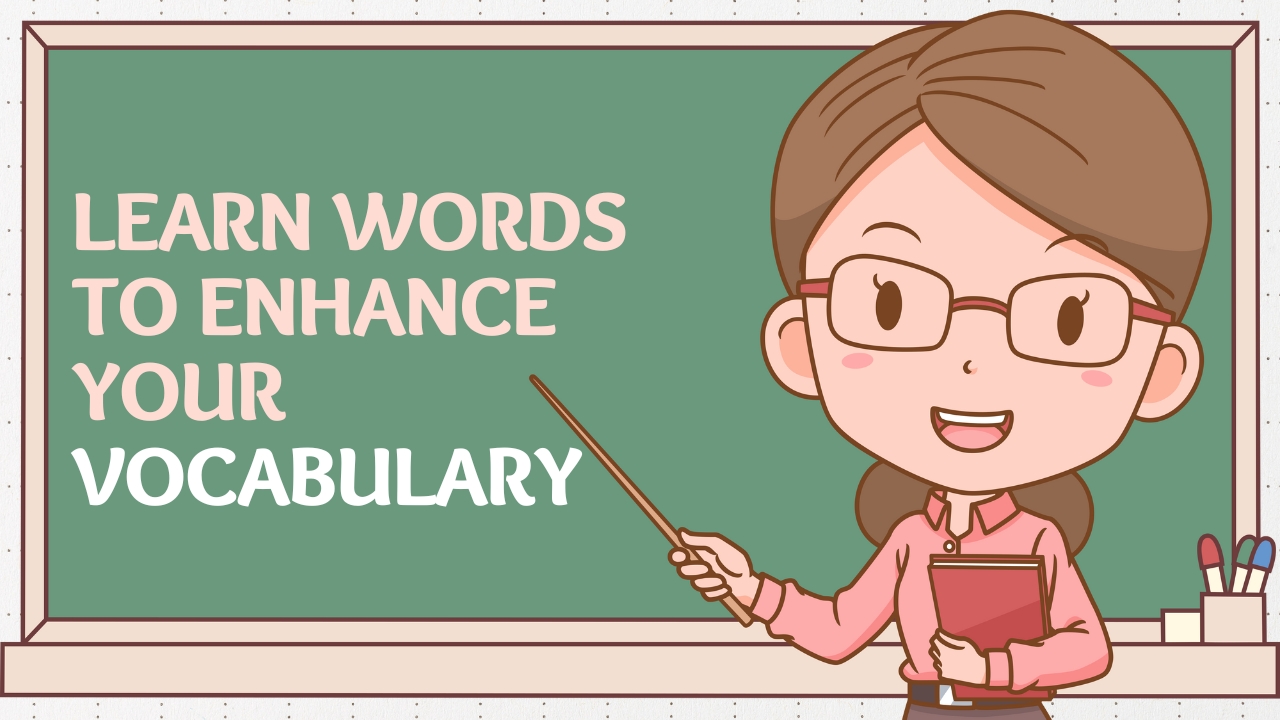 We don't need to tell you the importance of speaking fluent English. Be it facing any interview, interacting among peer groups or gaining confidence in life in general, a person who is fluent in a global language will not feel out of place in any situation. Moreover, in many exams vocabulary plays a major role in solving a variety of questions. So why wait, begin your learning with Class24.
1. Disrupting: (verb)
Meaning: Interrupt (an event, activity, or process) by causing a disturbance or problem. (बाधित)
Synonym: Disturb, Rattle, Agitate, Bollix
Antonym: Appease, Soothe, Calm, Clear Up
Example: Protesters 'disrupted' the conference.
Related Words:
Disruption, Disrupted, Disruptive, Disruptively
Trick: The rules are disrupted by the corrupted people.
2. Resolution: (noun)
Meaning: Admirably purposeful, determined, and unwavering. (दृढ़)
Synonym: Adamant, Bold, Courageous, Obstinate
Antonym: Afraid, Agreeable, Complacent, Cooperative
Example: She is a 'resolute' competitor.
Related Words:
Resoluteness, Resolutely
Trick: He is absolute and resolute about his decision.
3. Comprising: (verb)
Meaning: Be made up of. (शामिल)
Synonym: Compose, Constitute, Contain, Cover
Antonym: Abandon, Destroy, Exclude, Neglect
Example: Each army division 'comprised' 4,500 troops.
Related Words:
Comprised
Trick: They all are comprised of suppressed behavior against students.
4. Development: (noun)
Meaning: The process of developing or being developed. (विकास)
Synonym: Advancement, Evolution, Expansion, Improvement
Antonym: Decline, Decrease, Halt, Retreat
Example: Good nutrition is important for proper muscle 'development'.
Related Words:
Developmental, Developing, Developed, Developmentally
Trick: The development is done on behalf of agreement.
5. Considered: (verb)
Meaning: By a notably large amount or to a notably large extent (काफी)
Synonym: Appreciably, Far, Greatly, Markedly
Antonym: Insignificantly, Little, Slightly, Unappreciably
Example: He's 'considerably' fatter than he was when I knew him.
Related Words:
Considerable, Considering, Considerably
Trick: The amount is considering the managing department.
6. Faction: (noun)
Meaning: A small organized dissenting group within a larger one, especially in politics. (दल)
Synonym: Clan, Gang, Junta, Minority
Antonym: Individual, Whole, Agreement, Conformity
Example: There are 'factions' within groups and groups within factions.
Related Words:
Factional, Factionalize, Factionally
Trick: Kuch sanction ki wajah se us faction ko roka gaya h.
7. Conflict: (noun)
Meaning: A serious disagreement or argument, typically a protracted one. (टकराव)
Synonym: Battle, Clash, Combat, Competition
Antonym: Peace, Truce, Agreement, Calm
Example: There was a lot of 'conflict' between him and his father.
Related Words:
Conflicted, Conflicting
Trick: Conflict ki taraf direct nahi hona chahiye.
8. Escalation: (noun)
Meaning: A rapid increase (वृद्धि)
Synonym: Acceleration, Growth, Increase, Rise
Antonym: Decrease, Diminishment, Lower, Fall
Example: Both countries mobilized their armies, but pressure from the international community averted further 'escalation'.
Related Words:
Escalating, Escalatingly
Trick: His motivation speech gives escalation in their work.
9. Vowed: (verb)
Meaning: Solemnly promise to do a specified thing. (शपथ)
Synonym: Swear, Pledge, Promise, Affirm
Antonym: Deny, Disavow, Break, Breach
Example: From that day on, she 'vowed' never to trust him again.
Related Words:
Vowing
Trick: The militants bowed and vowed for the nation.
10. Perpetrator: (noun)
Meaning: Carry out or commit (a harmful, illegal, or immoral action). (बढ़ावा)
Synonym: Carry Out, Commit, Execute, Inflict
Antonym: Leave, Stop, Fail, Halt
Example: The men were planning to 'perpetrate' a robbery.
Related Words:
Perpetration, Perpetrating, Perpetrated
Trick: You haven't stated the perpetrated means of your work.
As always, if you have any questions or feedback, we'd love to hear from you. You can reach us on support@class24.study or
Call support - +91 78498 41445,+91 83029 72601,+91 78775 18210
Let's connect with CLASS24
🚀 Download the Class24 App here: