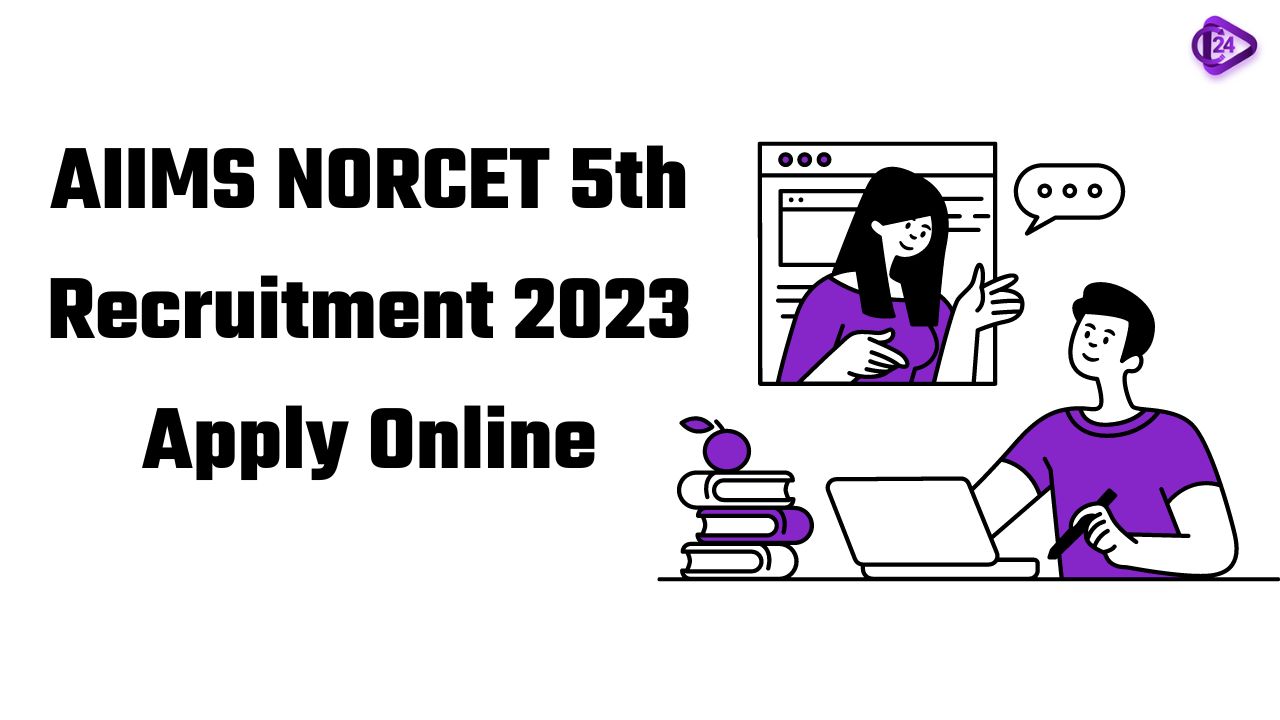 In the fast-paced world of medical advancements, opportunities for aspiring healthcare professionals are constantly emerging. The AIIMS NORCET 5th Recruitment 2023 is one such golden chance that promises to shape the careers of countless medical enthusiasts. This article delves into the details of this remarkable recruitment drive, highlighting the key features, application process, and benefits it offers to aspiring candidates.
All India Institute of Medical Science (AIIMS)

AIIMS Nursing Officer Recruitment Common Eligibility Test (NORCET-2023)

Important Dates

Application Begin : 05/08/2023

Last Date for Apply Online :25/08/2023 upto 05:00 PM only

Fee Payment Last Date : 25/08/2023

Correction Date : 26-28 August 2023

Exam Date Stage I : 17/09/2023

Stage II Exam Date : 07/10/2023

Admit Card Available : Before Exam

Result Declared : Notified Soon

Application Fee

General / OBC : 3000/-

SC / ST / EWS : 2400/-

PH : 0/- (Exempted)

Pay the Examination Fee Through Debit Card, Credit Card, Net Banking or Pay Fee Through Offline Payment E Challan Mode Only.
Understanding AIIMS NORCET 5th Recruitment 2023
What is AIIMS NORCET?
AIIMS NORCET, which stands for All India Institute of Medical Sciences Nursing Officer Recruitment Common Eligibility Test, is a competitive examination conducted by AIIMS. It serves as a gateway for candidates aspiring to secure the position of Nursing Officer in prestigious medical institutions across India.
Importance of AIIMS NORCET 5th Recruitment
The 5th iteration of AIIMS NORCET holds immense significance due to the increasing demand for skilled nursing professionals in the healthcare sector. This recruitment drive opens doors for individuals to contribute to patient care and medical services on a national scale.
Eligibility Criteria
Educational Requirements
Applicants must possess a B.Sc. (Hons.) in Nursing or B.Sc. Nursing from a recognized university or institute. Alternatively, individuals with a diploma in General Nursing Midwifery and registered as a nurse can also apply.
Age Limitations
AIIMS NORCET 5th Exam Notification 2023 Exam: Age Limit as on 25/08/2023
Minimum Age: 18 Years.
Maximum Age: 30 Years. For AIIMS NORCET 2023
Maximum Age: 35 Years. For NITRD, New Delhi.
Age Relaxation Extra as per AIIMS NORCET 4th Exam Recruitment Rules.
Application Process
The application process for AIIMS NORCET 5th Recruitment is carried out online through the official website.
Online Registration
Candidates need to register by providing their basic details and creating login credentials.
Uploading Documents
Applicants are required to upload scanned copies of their photograph, signature, and relevant educational documents.
Application Fee Payment
The application fee can be paid through online modes such as credit card, debit card, or net banking.
Vacancy Details
AIIMS Nursing Officer 5th Exam NORCET 2023 : Vacancy Details

Post Name

AIIMS NORCET Eligibility

Nursing Officer AIIMS

B.Sc Nursing and Registered as a Nurses and Midwife with State / Indian Nursing Council. OR

Diploma in General Nursing Midwifery and Registered as a Nursery and Midwife in State / Nursing Council with 2 Year Experience in 50 Bedded Hospital.

More Details Read the Notification.

Nursing Officer NITRD, New Delhi.

Diploma in General Nursing Midwifery / B.SC Nursing / Post Basic B.Sc with Registered in Nurses & Midwife with State / Indian Nursing Council.

More Details Read the Notification.

AIIMS NORCET 5th Recruitment 2023 : Participating AIIMS Details
AIIMS NORCET 5th Recruitment 2023 : Participating AIIMS Details

AIIMS Name

State Name

AIIMS RAE BARELI

Uttar Pradesh

AIIMS GORAKHPUR

Uttar Pradesh

AIIMS PATNA

Bihar

AIIMS NEW DELHI

Delhi

AIIMS RISHIKESH

Uttrakhand

AIIMS DEOGHAR

Jharkhand

AIIMS BHOPAL

Madhya Pradesh

AIIMS JODHPUR

Rajasthan

AIIMS NAGPUR

Maharashtra

AIIMS MANGALAGIRI

Andhra Pradesh

AIIMS BILASPUR

Himachal Pradesh

AIIMS BIBINAGAR

Telangana

AIIMS BHUBANESWAR

Odisha

AIIMS RAIPUR

Chhattisgarh

AIIMS RAJKOT

Gujarat

AIIMS KALYANI

West Bengal

AIIMS VIJAYPUR

Jammu

AIIMS BATHINDA

Punjab
Syllabus and Exam Pattern
The AIIMS NORCET exam covers subjects like General Knowledge, Basic Mathematics, English, and Nursing-related topics.
Subjects Covered
General Knowledge: Current affairs, national and international events.

Basic Mathematics: Fundamental mathematical concepts.

English: Vocabulary, grammar, comprehension.

Nursing-related topics: Medical terminology, patient care, healthcare ethics.
Marking Scheme
Each correct answer is awarded one mark, while each incorrect answer results in a 0.25 negative mark.
Preparation Tips
Study Resources
Candidates can refer to standard nursing textbooks, current affairs magazines, and online resources for exam preparation.
Time Management
Creating a study schedule and allocating time to each subject helps manage preparation effectively.
Benefits of AIIMS NORCET 5th Recruitment
Job Security
Qualified candidates can enjoy job security in esteemed medical institutions, ensuring a stable and rewarding career.
Growth Opportunities
The role of a Nursing Officer offers continuous learning and advancement opportunities, contributing to personal and professional growth.
Challenges Faced by Applicants
Intense Competition
The increasing number of applicants makes AIIMS NORCET a highly competitive exam, requiring thorough preparation.
Exam Pressure
The rigorous syllabus and negative marking system can lead to exam-related stress. Proper time management and practice are essential to alleviate pressure.
Success Stories
Real-life Experiences of Previous Recruits
Several individuals who cleared AIIMS NORCET have shared their journey of hard work, dedication, and the path to success. Their stories serve as inspiration for aspiring candidates.
How AIIMS NORCET Shapes Medical Careers
Skill Enhancement
AIIMS NORCET not only tests knowledge but also enhances candidates' critical thinking, problem-solving, and decision-making skills.
Exposure to Multidisciplinary Medicine
Working in renowned medical institutions exposes Nursing Officers to diverse medical cases and treatments, broadening their medical knowledge.
FAQs
What is the full form of AIIMS NORCET?


AIIMS NORCET stands for All India Institute of Medical Sciences Nursing Officer Recruitment Common Eligibility Test.

Can foreign nationals apply for AIIMS NORCET?


No, AIIMS NORCET is open to Indian citizens only.

Is there a sectional cut-off in the exam?


Yes, candidates must secure minimum qualifying marks in each section.

How often does AIIMS conduct NORCET?




AIIMS conducts NORCET periodically based on the staffing requirements of medical institutions.

What is the role of mock tests in preparation?


Mock tests help candidates familiarize themselves with the exam pattern and improve time management skills.
Conclusion
The AIIMS NORCET 5th Recruitment 2023 is an exciting opportunity for individuals with a passion for nursing and healthcare. It offers a chance to contribute to the medical field while enjoying job security and growth prospects. By taking advantage of this recruitment drive, aspiring candidates can embark on a fulfilling and meaningful career journey.