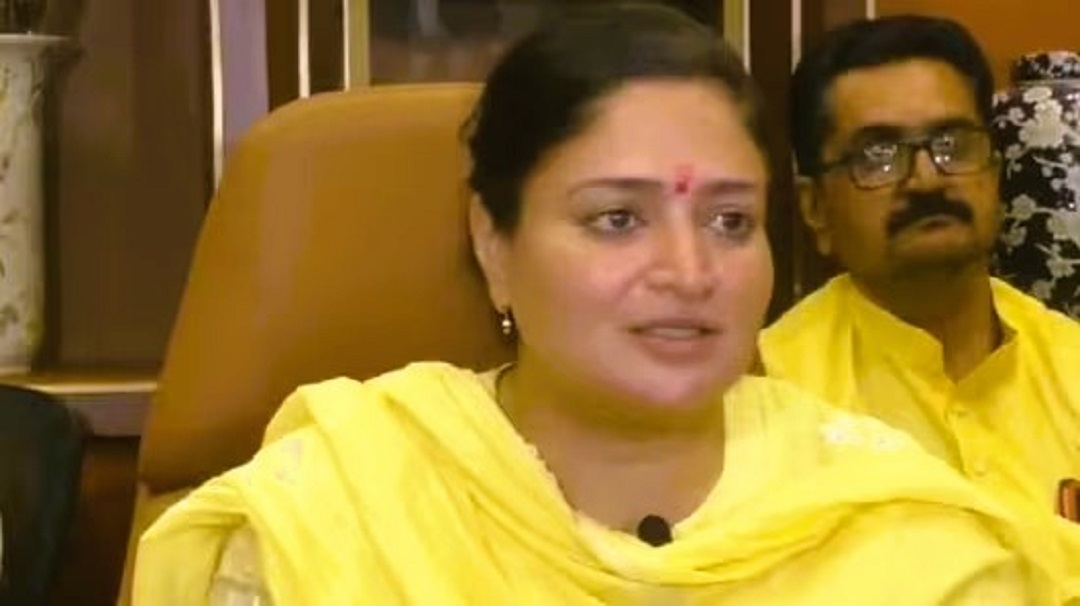 A video of a heated altercation between Rivaba Jadeja, Poonamben Maadam and Bina Kothari went viral on Thursday.
Hours after a public verbal spat with Gujarat's Jamnagar (north) MLA Rivaba Jadeja, Bharatiya Janata Party (BJP) MP Poonamben Maadam on Thursday said that there was a "misunderstanding" and clarified that BJP is like a "parivaar" (family), and everyone in it is the strength of each other.
"Sometimes there will be an overreaction to the situations, yet the BJP is like a parivaar, and everyone in it is the strength of each other," Maadam told the media.
Maadam also said Mayor Bina Kothari is like her elder sister and Rivaba, the spouse of Indian cricketer Ravindra Jadeja, is like her younger sister. The BJP MP said she was only trying to calm down both of them in order to avoid any further comments.
"There was definitely some misunderstanding, and its reaction was visible in the viral video. And as I said, the party is like a family, everyone in it is the strength of each other," ANI quoted Maadam as saying.
The incident occurred on Thursday at a 'Meri Maati Mera Desh' event in Jamnagar city where the leaders were paying tribute to the martyrs.
Earlier, when asked about the incident, Maadam told Hindustan Times that she was really having a conversation with the Kothari and Jadeja assumed that her comment was directed at her.
"In fact, when Rivaba and the mayor were having a heated argument and I tried to intervene and stop them. When Rivaba suggested that the mayor should stay within her aukaat, I reminded her that Binaben is a senior person and it was inappropriate to address her in such a manner. Rivaba's emotional outburst is shocking – it appears there might be a misunderstanding, or perhaps she was having a bad day or was in a bad mood," Maadam said.
Kothari declined to comment. "It was an internal matter of the BJP and I do not want to make any comment about it," she said.
Video of the altercation
A video of a heated altercation between Rivaba and her colleagues went viral on Thursday. Rivaba and Maadam entered into the verbal spat after they exchanged barbs over the "use of slippers" while paying tributes to the bravehearts.
According to Jadeja, Maadam allegedly taunted her and called her "over smart" for taking off her slippers while she was paying tribute.
Rivaba was also seen involved in a public confrontation with Jamnagar's municipal mayor Kothari. In a video, she is seen directing her ire towards both of them, while Kothari is heard advising Jadeja to be mindful of her language and refrain from making remarks about her 'aukaat' (status).
The Jamnagar (north) MLA addressed the media following the verbal spat and said she was paying tributes at an event without footwear, and that Maadam passed a comment aimed at her which she felt was "insulting".
"The MP said loudly, in a way that the press and all other party members and others present around could hear, that the president and prime minister don't remove their footwear, but some people with no understanding try to act over smart and remove their footwear," Jadeja said.
Hindustan Times
(National)