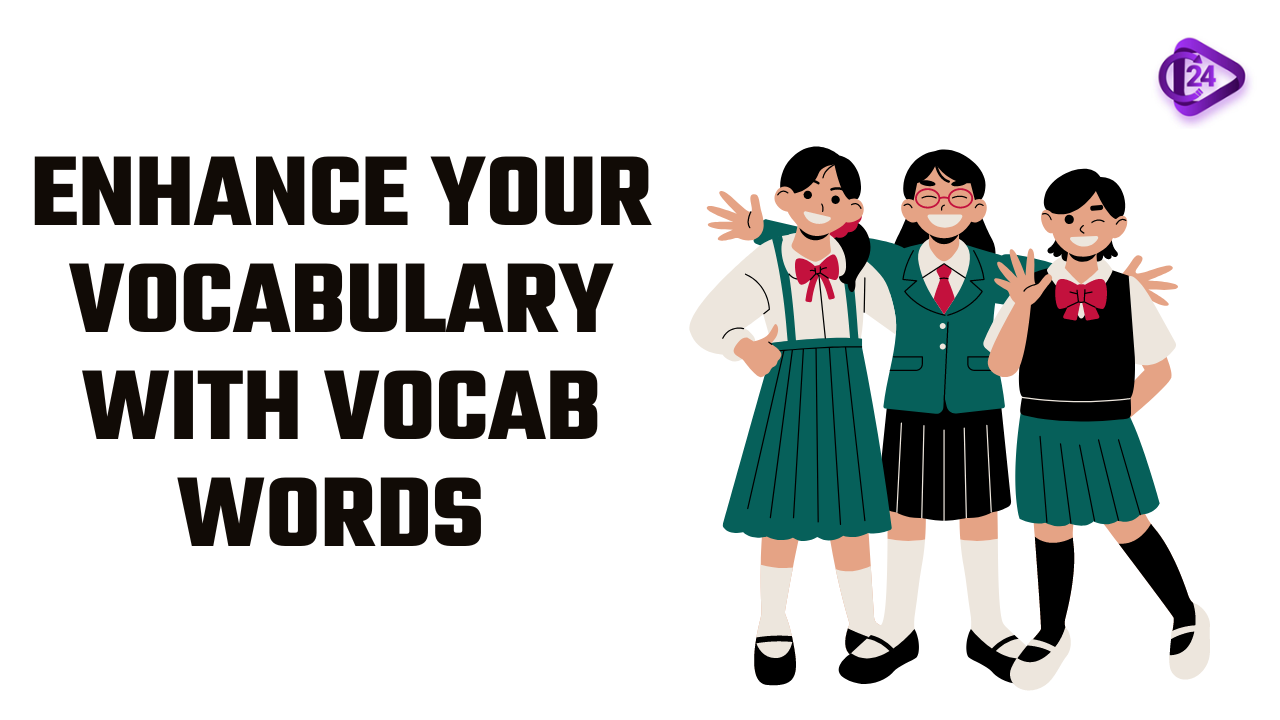 We don't need to tell you the importance of speaking fluent English. Be it facing any interview, interacting among peer groups, or gaining confidence in life in general, a person who is fluent in a global language will not feel out of place in any situation. Moreover, in many exams, vocabulary plays a major role in solving a variety of questions. So why wait, begin your learning with Class24.
Evacuate: (verb)
Meaning: The act of moving people from a dangerous place to somewhere safe (निकास)
Synonym: Expulsion, Clearing, Discharge, Emptying
Antonym: Retention, Arrival, Coming, Entrance
Example: They organised the evacuation of the town
Related Words:
Evacuated, Evacuating, Evacuation
Trick: The evacuation process need fluctuation
Breached: (verb)
Meaning: Make a gap in and break through (a wall, barrier, or defence). (उल्लंघन)
Synonym: Crack, Rift, Rupture, Aperture
Antonym: Agreement, Closing, Closure, Juncture
Example: He claims that the city breached an agreement by selling the property.
Related Words:
Breachment
Trick: They reached the mall the breached the system.
Expected: (adjective)
Meaning: Regarded as likely. (अपेक्षित)
Synonym: Normal, Conventional, Familiar, Habitual
Antonym: Unannounced, Unheralded, Unpredicted, Unexpected
Example: As expected, the election was very close.
Related Words:
Expectation, Expecting
Trick: The VIP is expected to be protected.
Mitigate: (verb)
Meaning: The action of reducing the severity, seriousness, or painfulness of something. (शमन)
Synonym: Alleviate, Assuage, Lighten, Relieve
Antonym: Disqualification, Inability, Inaptitude, Lack
Example: She raised her'kerchief to her nose to mitigate the stench.
Related Words:
Mitigating, Mitigation
Trick: The action of mitigation can cause attraction
Prompted: (verb)
Meaning: To move to action. (प्रेरित किया)
Synonym: Cause, Occasion, Elicit, Produce
Antonym: Deter, Restrain, Slow
Example: The actor had to be prompted by someone who was standing offstage.
Related words:
Promptness, Prompting
Trick: The man interrupted when the dog prompted.
Accused: (noun)
Meaning: A person or group of people who are charged with or on trial for a crime. (आरोपी)
Synonym: Arraigned, Implicated, Incriminated, Indicted
Antonym: Acquitted, Clear, Discharged
Example: He was accused of stealing the money.
Related Words:
Accusing, Accusingly
Trick: The accused person has abused the law.
Indulging: (verb)
Meaning: Allow oneself to enjoy the pleasure of. (लिप्त)
Synonym: Entertain, Nourish, Pamper, Satiate
Antonym: Deprive, Dissatisfy, Ignore, Neglect
Example: She has never been one to indulge in gossip.
Related Words:
Indulgence, Indulgently, Indulged
Trick: They both divulged and indulged in the process
Claims: (verb)
Meaning: State or assert that something is the case, typically without providing evidence or proof. (दावा)
Synonym: Assert, Declare, Profess, Affirm
Antonym: Disclaim, Answer, Honesty, Truth
Example: The man claimed (that) he was a long-lost relative.
Related Words:
Claimed, Claiming
Trick: His main aim is to claim money.
Inspected: (verb)
Meaning: To look at something closely or in great detail (निरीक्षित)
Synonym: Examine, Scan, Scrutinize, Audit
Antonym: Ignore, Neglect, Overlook, Answer
Example: They inspected the paintwork for cracks and flaws
Related Words:
Inspection, Inspecting, Inspective
Trick: The team inspected and suspected the truth
Exposed: (adjective)
Meaning: Not protected from the wind and bad weather (अनावृत)
Synonym: Bare, Defined, Disclosed, Discovered
Antonym: Clothed, Hidden, Ambiguous, Blocked
Example: the film had been exposed for too long
Related Words:
Exposing
Trick: The guy posed badly when exposed