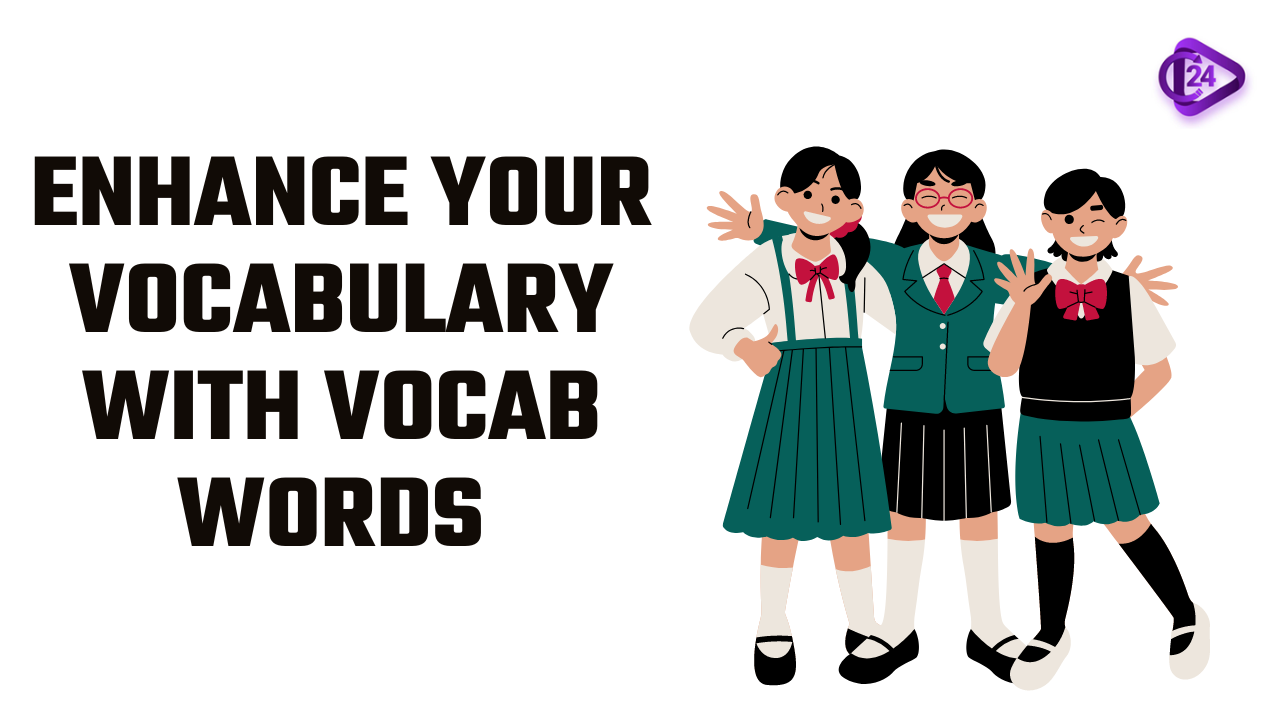 We don't need to tell you the importance of speaking fluent English. Be it facing any interview, interacting among peer groups, or gaining confidence in life in general, a person who is fluent in a global language will not feel out of place in any situation. Moreover, in many exams, vocabulary plays a major role in solving a variety of questions. So why wait, begin your learning with Class24.
Renovation: (noun)
Meaning: Restore (something old, especially a building) to a good state of repair. (सुधारना)
Synonym: Redecorate, Refurbish, Revamp, Recondition
Antonym: Break, Damage, Destroy, Ruin
Example: It's an old factory that has been renovated as office space.
Related Words:
Renovated, Renovative, Renovating
Trick: The building was renovated which was situated in east.
Probe: (noun)
Meaning: A blunt-ended surgical instrument used for exploring a wound or part of the body. (जांच)
Synonym: Investigation, Examination, Inquest, Scrutiny
Antonym: Gentle, Idiotic, Kind, Nice.
Example: He didn't like the police probing him about his past.
Related Words:
Probing, Probed
Trick: You have to probe through this telescope.
Extortion: (verb)
Meaning: Obtain (something) by force, threats, or other unfair means. (जबरन वसूली)
Synonym: Coerce, Elicit, Exact, Extract
Antonym: Forfeit, Give, Let Go, Loosen
Example: The criminals extorted large sums of money from their victims.
Related Words:
Extorted, Extorting, Extortive, Extortionately
Trick: Police extorted ones ko sorted rakhna chahti h.
Formulation: (noun)
Meaning: Create or prepare methodically. (तैयार)
Synonym: Codify, Define, Develop, Devise
Antonym: Disorganize, Destroy, Halt, Raze
Example: Little by little, he formulated his plan for escape.
Related Words:
Formulated, Formulating
Trick: Phle sab calculate karke fir plan ko formulate kare.
Apprehensive: (adjective)
Meaning: Anxiety or fear that something bad or unpleasant will happen. (आशंका)
Synonym: Alarm, Disquiet, Doubt, Dread
Antonym: Belief, Calm, Confidence, Certainty
Example: There is growing apprehension that fighting will begin again.
Related Words:
Apprehension, Apprehend, Apprehensively
Trick: The expansion of apprehension can cause major issues.
Submitted: (verb)
Meaning: Accept or yield to a superior force or to the authority or will of another person. (प्रस्तुत)
Synonym: Succumbed, Conceded, Surrendered, Yielded
Antonym: Resisted, Contended, Fought, Met
Example: The recall was prompted by test reports submitted by the company itself.
Related Words:
Submission, Submitting
Trick: The submitted project was accepted.
Pertaining: (verb)
Meaning: To exist or apply in a particular situation or at a particular time (संबंधित)
Synonym: concern, connected, referring, related
Antonym: ignore, disregard, slight
Example: the laws pertaining to immigration.
Related Words:
Pertain
Trick: Ye situation unhi rules se pertaining h jinhe attain krna jaruri h.
Intimidating: (verb)
Meaning: The action of intimidating someone, or the state of being intimidated. (धमकी)
Synonym: Frightening, Menacing, Terrifying, Scaring.
Antonym: Assure, Calm, Comfort, Embolden.
Example: He tries to intimidate his opponents.
Related Words:
Intimidation, Intimidatingly
Trick: Intimidation can cause separation.
Alleged: (adjective)
Meaning: Said, without proof, to have taken place or to have a specified illegal or undesirable quality. (कथित)
Synonym: Supposed, Professed, Purported, Apparent
Antonym: Proved, Verifiable, Stated, Tried-And-True.
Example: But sometimes there is also an element of fraud from the alleged victim.
Related Words:
Allegation, Allegedly
Trick: He was alleged by the managed workers.
Scrapped: (noun)
Meaning: A small piece or amount of something, especially one that is left over after the greater part has been used. (रद्दी)
Synonym: Fragment, Piece, Bit, Offcut
Antonym: Agreement, Harmony, Peace, Truce
Example: He jotted it down on a scrap of paper.
Trick: he was trapped in the scrapped area
Related Words:
Scrapping
Trick: The maid wrapped the scrapped pieces.
As always, if you have any questions or feedback, we'd love to hear from you. You can reach us on support@class24.study or
Call support - +91 78498 41445,+91 83029 72601,+91 78775 18210
Let's connect with CLASS24
🚀 Download the Class24 App here: