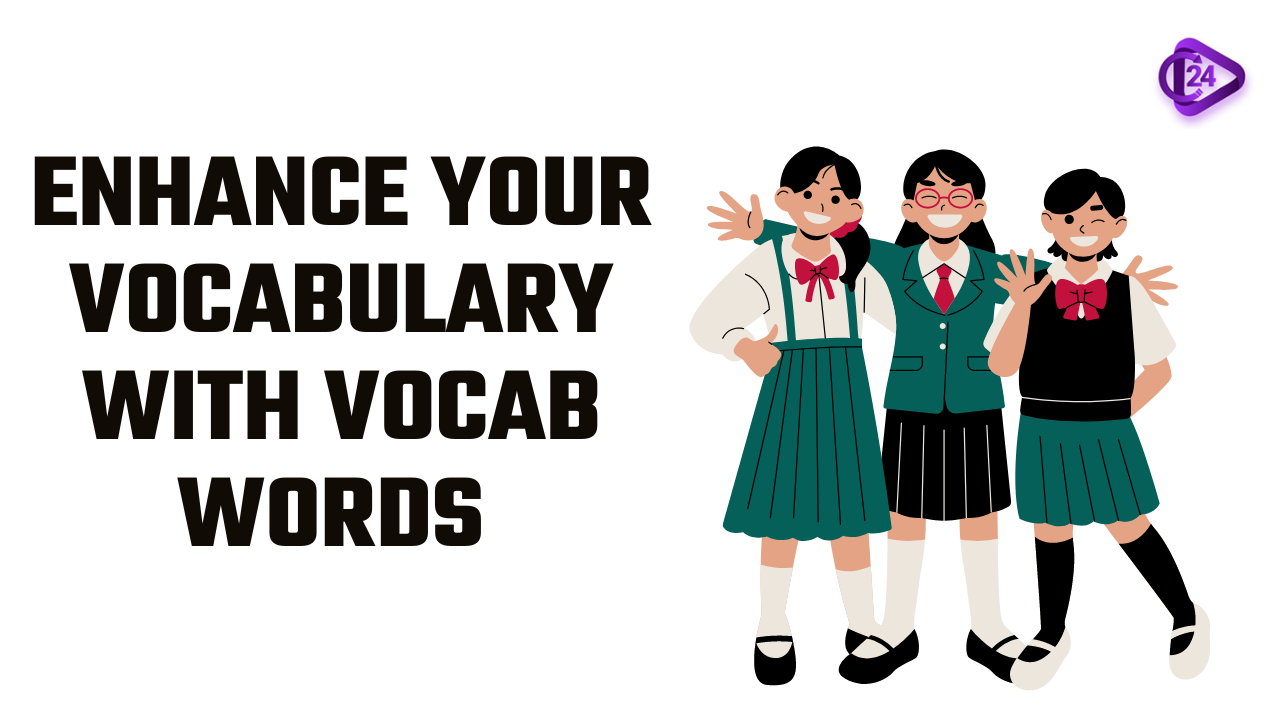 We don't need to tell you the importance of speaking fluent English. Be it facing any interview, interacting among peer groups, or gaining confidence in life in general, a person who is fluent in a global language will not feel out of place in any situation. Moreover, in many exams, vocabulary plays a major role in solving a variety of questions. So why wait, begin your learning with Class24.
1. Comprehensive: (adjective)
Meaning: Including or dealing with all or nearly all elements or aspects of something. (विस्तृत)
Synonym: Broad, Complete, Encyclopedic, Exhaustive
Antonym: Empty, Incomplete, Limited, Narrow
Example: The Rough Guide to Nepal is a comprehensive guide to the region.
Related Words:
Comprehensiveness, Comprehend, Comprehensively
Trick: The substantive goals are comprehensive.
2. Federation: (noun)
Meaning: A group of states with a central government but independence in internal affairs. (संघ)
Synonym: Confederacy, Union, Coalition, Alliance.
Antonym: Division, Separation, Disunion.
Example: The organization emerged from a federation of six national agencies.
Related words:
Federal, Federate, Federally
Trick: The federal meeting is in several cases
3. Formulated: (verb)
Meaning: Create or prepare methodically. (तैयार)
Synonym: Codify, Define, Develop, Devise
Antonym: Disorganize, Destroy, Halt, Raze
Example: Little by little, he formulated his plan for escape.
Related Words:
Formulation, Formulating
Trick: Phle sab calculate karke fir plan ko formulate kare.
4. Grievance: (noun)
Meaning: A real or imagined cause for complaint, especially unfair treatment. (शिकायत)
Synonym: Grief, Hardship, Injustice, Objection
Antonym: Delight, Happiness, Joy, Advantage
Example: He has a deep sense of grievance against his former employer.
Related Words:
Grieving, Grieved
Trick: Grievance ke box ka maintenance karo.
5. Recognizing: (verb)
Meaning: Identify (someone or something) from having encountered them before; know again. (मान्यता-प्राप्त)
Synonym: Accepted, Identified, Known, Perceived
Antonym: Deny, Forget, Ignore, Neglect
Example: I can always recognize him from far away by the way he walks.
Related Words:
Recognition, Recognizable, Recognizably, Recognized
Trick: The man was pressurized by the recognized authority.
6. Corporations: (noun)
Meaning: A large company or group of companies authorized to act as a single entity and recognized as such in law. (निगमों)
Synonym: Company, Firm, Business, Concern
Antonym: Noncommercial, Unmarketable, Unsalable, Uncommercial
Example: The Municipal Corporations Act of 1835 had given elected corporations to the large towns
Related Words:
Corporative
Trick: The big corporations are in action with market.
7. Comprising: (verb)
Meaning: Be made up of. (शामिल)
Synonym: Compose, Constitute, Contain, Cover
Antonym: Abandon, Destroy, Exclude, Neglect
Example: Each army division comprised 4,500 troops.
Related Words:
Comprised
Trick: They all are comprised in the suppressed behaviour against students.
8. Inspect: (verb)
Meaning: To look at something closely or in great detail (निरीक्षित)
Synonym: Examine, Scan, Scrutinize, Audit
Antonym: Ignore, Neglect, Overlook, Answer
Example: They inspected the paintwork for cracks and flaws
Related Words:
Inspection, Inspecting, Inspective, Inspected
Trick: The team inspected and suspected the truth
9. Suspected: (verb)
Meaning: Have an idea or impression of the existence, presence, or truth of (something) without certain proof. (संदिग्ध)
Synonym: Open, Pseudo, Doubtable, Thick
Antonym: Innocent, Known, Trusted, Trustworthy
Example: He's suspected in four burglaries.
Related Words:
Suspecting, Suspicious, Suspiciously
Trick: Crime prove hone tak Suspect ki respect karni chahiye
10. Incidents: (noun)
Meaning: An instance of something happening; an event or occurrence. (घटनाएं)
Synonym: Circumstance, Episode, Event, Fact
Antonym: Cessation, Inaction, Inactivity, Stoppage
Example: Two people were shot yesterday in two separate incidents.
Related Words:
Incidentally
Trick: These incidents are subsequent.
As always, if you have any questions or feedback, we'd love to hear from you. You can reach us on support@class24.study or
Call support - +91 78498 41445,+91 83029 72601,+91 78775 18210
Related Article: Govt Exam Preparation