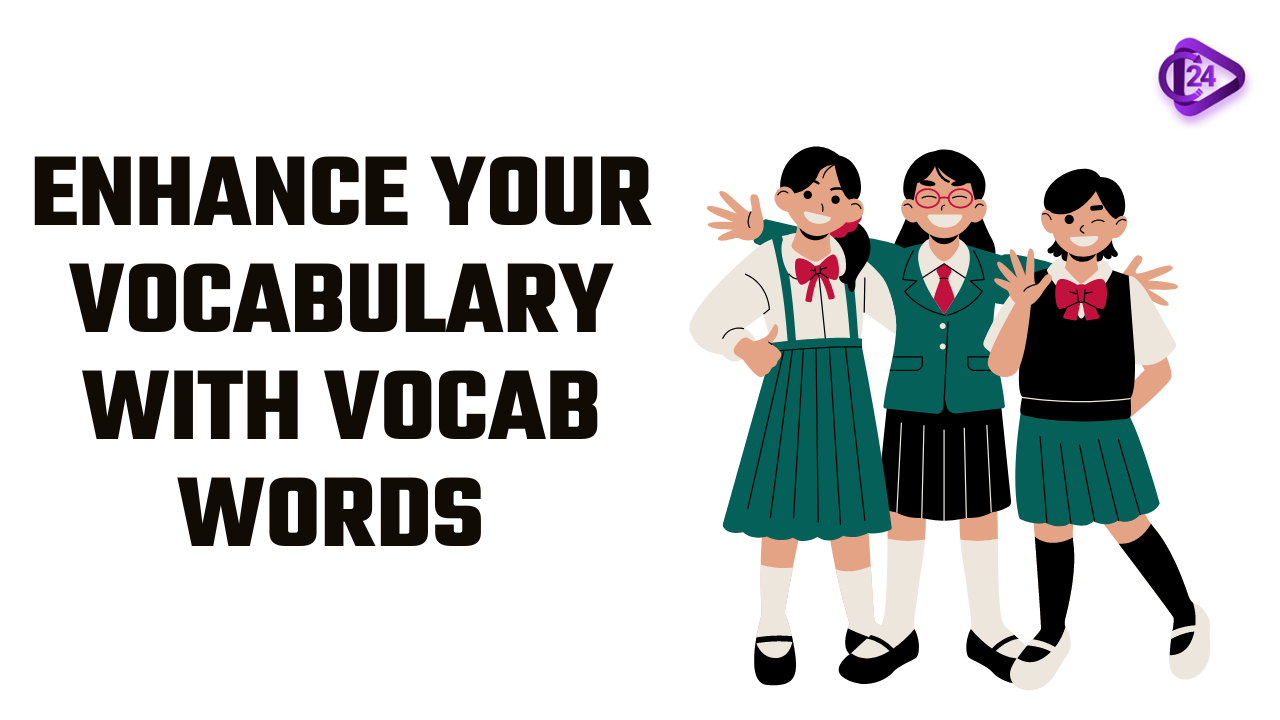 We don't need to tell you the importance of speaking fluent English. Be it facing any interview, interacting among peer groups, or gaining confidence in life in general, a person who is fluent in a global language will not feel out of place in any situation. Moreover, in many exams, vocabulary plays a major role in solving a variety of questions. So why wait, begin your learning with Class24.
Seek: (verb)
Meaning: Attempt to find (something). (मांगना)
Synonym: Explore, Follow, Investigate, Pursue
Antonym: Ignore, Shun, Answer, Find
Example: The office is seeking a salesperson.
Related Words:
Seeking, Seekable, Seekingly
Trick: They are seeking for the streaking part.
Ensure: (verb)
Meaning: Make certain that (something) will occur or be the case. (सुनिश्चित)
Synonym: Secure, Guarantee, Warrant, Certify
Antonym: Hurt, Forget, Ignore, Invalidate.
Example: The company's sole concern is to ensure the safety of its employees.
Related Words:
Ensured, Ensuring
Trick: The doctor ensures to cure the disease.
Conference: (noun)
Meaning: A meeting of two or more persons for discussing matters of common concern. (सम्मेलन)
Synonym: Consultation, Discussion, Forum, Interview
Antonym: Silence, Quiet, Disassembly
Example: The organization held its annual conference in New York this year.
Related Words:
Conferencing
Trick: All the companies are showing their presence in the conference.
Urged: (verb)
Meaning: The action of urging someone to do something. (आग्रह)
Synonym: Appetite, Compulsion, Craving, Impulse
Antonym: Disgust, Dislike, Distaste, Hate
Example: I can never resist the urge to laugh.
Related Words:
Urging, Urgently
Trick: Vo dog feeding ke liye urging kar raha h.
Evacuated: (verb)
Meaning: The act of moving people from a dangerous place to somewhere safe (निकास)
Synonym: Expulsion, Clearing, Discharge, Emptying
Antonym: Retention, Arrival, Coming, Entrance
Example: They organised the evacuation of the town
Related Words:
Evacuation, Evacuating
Trick: The evacuation process need fluctuation
Pointing: (verb)
Meaning: Having a sharpened or tapered tip or end. (नुकीला)
Synonym: Barbed, Sharp, Acuminate, Cornered
Antonym: Blunt, Dull
Example: Her new book is a pointed look at life in a small community.
Related Words:
Pointed, Pointedly
Trick: The pencil is pointed and painted well
Prevent: (verb)
Meaning: Keep (something) from happening. (रोकना)
Synonym: Avert, Avoid, Bar, Block
Antonym: Approve, Assist, Continue, Encourage
Example: You can't prevent my leaving.
Related Words:
Prevention, Preventive, Prevented, Preventing, Preventively
Trick: They helped us to prevent from this bad event.
Deployed: (verb)
Meaning: To put soldiers or weapons in a position where they are ready to fight. (तैनात करना)
Synonym: Position, Station, Post, Place.
Antonym: Concentrate, Conclude, Finish, Conceal.
Example: The troops were deployed for battle.
Related words:
Deployment, Deplorably, Deploying
Trick: Assembly me boys ko deploy kiya
Extended: (adjective)
Meaning: Made larger (विस्तारित)
Synonym: Expand, Enlarge, Increase, Lengthen
Antonym: Reduce, Shrink, Narrow
Example: He extended a hand in greeting.
Related Words:
Extending
Trick: The doctor pretended that the patient had extended the flu.
Affected: (verb)
Meaning: A gentle feeling of fondness or liking. (स्नेह)
Synonym: Fondness, Love, Liking, Endearment
Antonym: Dislike, Hate, Hatred, Indifference
Example: He shows great affection for his grandchildren.
Related Words:
Affectionate, Affectionately, Affection
Trick: The affection creates several actions