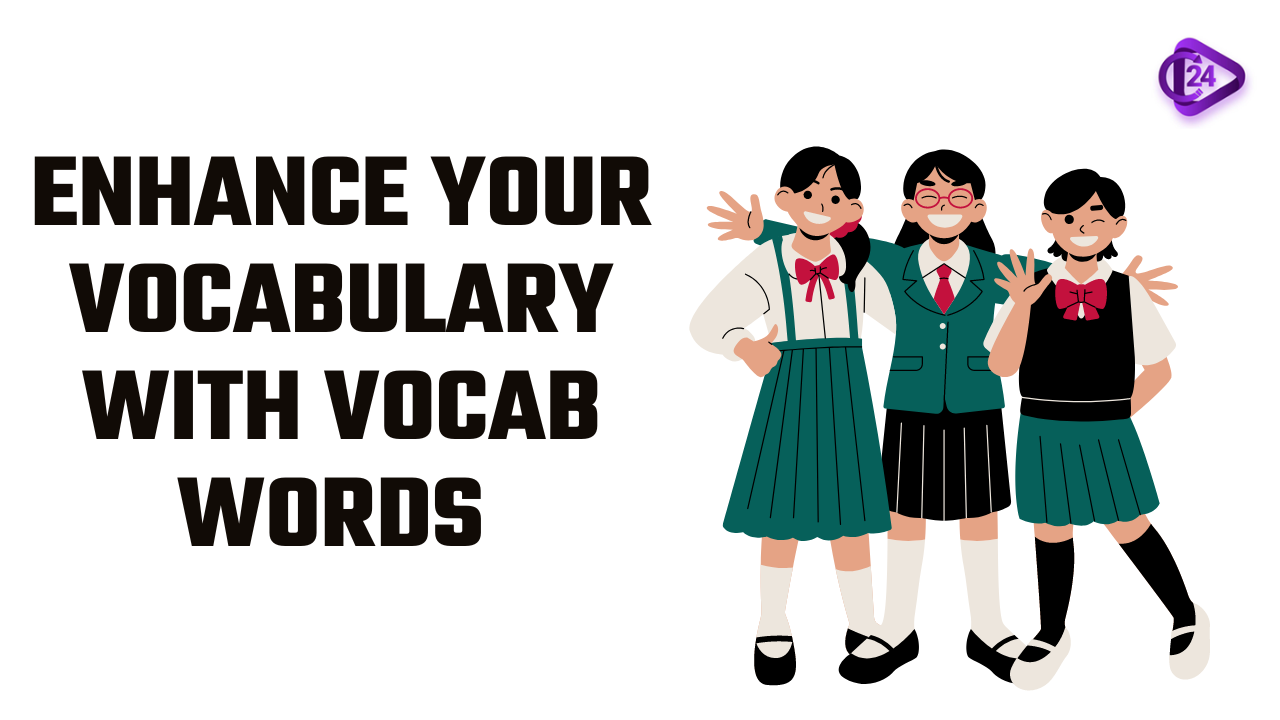 We don't need to tell you the importance of speaking fluent English. Be it facing any interview, interacting among peer groups, or gaining confidence in life in general, a person who is fluent in a global language will not feel out of place in any situation. Moreover, in many exams, vocabulary plays a major role in solving a variety of questions. So why wait, begin your learning with Class24.
Disproportionate: (adjective)
Meaning: To an extent that is too large or too small in comparison with something else. (अनुपातहीन)
Synonym: Extremely, Immensely, Improperly, Inordinately
Antonym: Balanced, Counterbalanced, Equitable, Moderate
Example: This act was found to be objectionable by some residents who stated that the new seventh district was disproportionately large.
Related Words:
Disproportion, Disproportioned, Disproportioning
Trick: The crowd is disproportionate and cannot be calibrate.
Controversy: (noun)
Meaning: Prolonged public disagreement or heated discussion (विवाद)
Synonym: Disagreement, Dispute, Argument, Debate
Antonym: Agreement, Concurrence, Peace, Compliment
Example: The decision aroused much controversy among the students.
Related Words:
Controversial, Controvert, Controversially
Trick: He never shows mercy in controversy.
Contested: (verb)
Meaning: Engage in competition to attain (a position of power). (चुनाव लड़ा)
Synonym: Debated, Argued, Challenged, Impugned
Antonym: Agreement, Calm, Peace, Quiet
Example: It will have a contested election for executive director.
Related Words:
Contesting, Contestable, Contestably
Trick: The teams contested and tested their ability
Threatened: (verb)
Meaning: A statement of an intention to inflict pain, injury, damage, or other hostile action on someone in retribution for something done or not done. (धमकी)
Synonym: Warning, Ultimatum, Commination, Menaces
Antonym: Certainty, Safety, Surety.
Example: The country is a great/major/serious threat to world peace.
Related words:
Threatening, Threateningly
Trick: Unke threats soch ko affect karte h
Deliberations: (noun)
Meaning: Discussion or thinking about something in detail. (विस्‍तृत विचार-विमर्श)
Synonym: Thought, Thinking, Consideration, Reflection.
Antonym: Haste, Accidental, Impulsive, Precipitate.
Example: After hours of deliberation, the council came to a decision.
Related words:
Deliberative, Deliberated, Deliberating.
Trick: The deliberation is done by foundation.
Suppressed: (verb)
Meaning: Forcibly put an end to. (दबा)
Synonym: Subdue, Defeat, Conquer, Vanquish
Antonym: Aid, Allow, Assist, Build Up
Example: He struggled to suppress his feelings of jealousy.
Related Words:
Suppression, Suppressing
Trick: The suppress of project makes everyone depressed.
Committed: (verb)
Meaning: The state or quality of being dedicated to a cause, activity, etc. (प्रतिबद्धता)
Synonym: Engagement, Guarantee, Need, Pledge
Antonym: Break, Breach, Irresponsibility, Denial
Example: The church has a commitment to helping the poor.
Related Words:
Commitment, Committing, Committedly
Trick: The architect's commitment is good for establishment.
Resignation: (noun)
Meaning: Leave a job or office (इस्तीफा)
Synonym: Abandon, Relinquish, Surrender, Waive
Antonym: Assert, Begin, Claim, Come
Example: The senator was forced to resign his position.
Related Words:
Resigned, Resignedly
Trick: The man signs and resigns the job
Harassment: (noun)
Meaning: Aggressive pressure or intimidation. (उत्पीडन)
Synonym: Persecution, Harrying, Pestering, Badgering.
Antonym: Cooperation, Assistance, Aid, Comfort.
Example: The university condemns all forms of harassment.
Related words:
Harassing
Trick: People harass the poetess.
Prevent: (verb)
Meaning: Keep (something) from happening. (रोकना)
Synonym: Avert, Avoid, Bar, Block
Antonym: Approve, Assist, Continue, Encourage
Example: You can't prevent my leaving.
Related Words:
Prevention, Preventive, Prevented, Preventing, Preventively
Trick: They helped us to prevent from this bad event.
As always, if you have any questions or feedback, we'd love to hear from you. You can reach us on support@class24.study or
Call support - +91 78498 41445,+91 83029 72601,+91 78775 18210
Related Article: Govt Exam Preparation