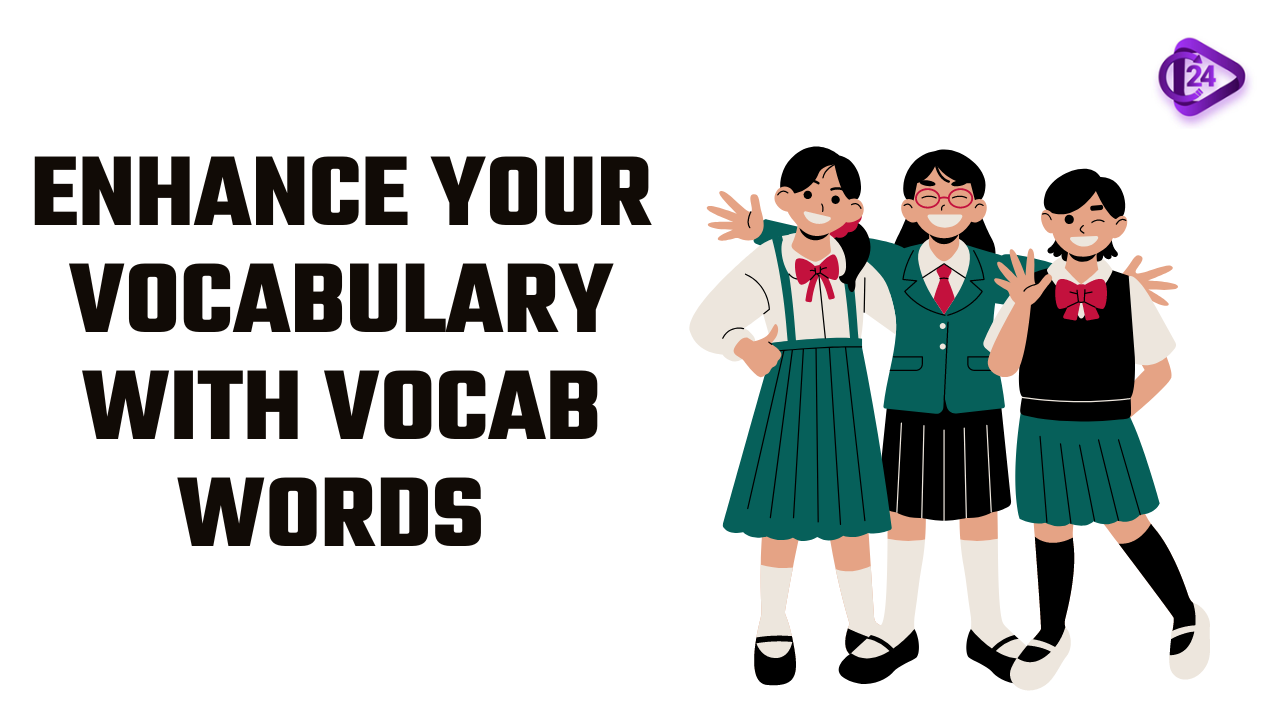 We don't need to tell you the importance of speaking fluent English. Be it facing any interview, interacting among peer groups, or gaining confidence in life in general, a person who is fluent in a global language will not feel out of place in any situation. Moreover, in many exams, vocabulary plays a major role in solving a variety of questions. So why wait, begin your learning with Class24.
Purported: (adjective)
Meaning: Appearing or stated to be true, though not necessarily so. (कथित)
Synonym: So-Called, Stated, Supposed, Averred
Antonym: Certain, Definite, Sure
Example: He forged documents which purported to show that his companies had vast resources.
Related Words:
Purportive, Purporting
Trick: Their gossips are purported and discriminated.
Maintained: (verb)
Meaning: Cause or enable (a condition or situation) to continue. (अनुरक्षित)
Synonym: Continue, Control, Cultivate, Finance
Antonym: Abandon, Destroy, Discontinue, Finish
Example: the king swears he will maintain the laws of God
Related Words:
Maintaining
Trick: The company retained and maintained the profits.
Accused: (noun)
Meaning: A person or group of people who are charged with or on trial for a crime. (आरोपी)
Synonym: Arraigned, Implicated, Incriminated, Indicted
Antonym: Acquitted, Clear, Discharged
Example: He was accused of stealing the money.
Related Words:
Accusing, Accusingly
Trick: The accused person has abused the law.
Circumstances: (noun)
Meaning: A fact or condition connected with or relevant to an event or action. (हालत)
Synonym: Situation, Conditions, Things, Position
Antonym: Debt, Poorness, Poverty.
Example: I can't imagine a circumstance in which I would do that.
Related Words:
Circumstantial
Trick: Instances can help in some circumstances
Deployed: (verb)
Meaning: To put soldiers or weapons in a position where they are ready to fight. (तैनात करना)
Synonym: Position, Station, Post, Place.
Antonym: Concentrate, Conclude, Finish, Conceal.
Example: The troops were deployed for battle.
Related words:
Deployment, Deplorably, Deploying
Trick: Assembly me boys ko deploy kiya
Administration: (noun)
Meaning: Relating to the running of a business, organization, etc. (प्रशासनिक)
Synonym: Bureaucratic, Departmental, Governmental, Legislative
Antonym: Nonmanagerial, Nonsupervisory, Non-Administrative, Subordinate
Example: Administrative work occupies half of my time.
Related Words:
Administrative, Administered, Administering, Administratively
Trick: Kuch selective rules hi administrative policy m hote h.
Negligence: (noun)
Meaning: Suffering a lack of proper care. (उपेक्षित)
Synonym: Abandon, Forsake, Mistreated, Abandoned
Antonym: Cherish, Look After, Neat, Clean
Example: The building has been neglected for years.
Related Words:
Negligent, Neglected, Neglectfully
Trick: Negligence of patience can cause trouble
Apprised: (verb)
Meaning: Inform or tell (someone). (आगाह)
Synonym: Advise, Apprize, Brief, Inform
Antonym: Heedless, Ignorant, Inattentive, Neglectful
Example: We were fully apprised of the situation.
Related Words:
Apprising
Trick: The passengers are surprised when they got apprised by the thief
Convened: (verb)
Meaning: To come together or to bring people together for a meeting, etc. (आयोजित करना)
Synonym: Summon, Call, Order, Hold.
Antonym: Disperse, Divide, Scatter, Separate.
Example: We convened at the hotel for a seminar.
Related words:
Convening, Conventional.
Trick: We are urging for the convening of the party.
Allegation: (noun)
Meaning: Said, without proof, to have taken place or to have a specified illegal or undesirable quality. (कथित)
Synonym: Supposed, Professed, Purported, Apparent
Antonym: Proved, Verifiable, Stated, Tried-And-True.
Example: But sometimes there is also an element of fraud from the alleged victim.
Related Words:
Alleging, Allegedly, Alleged
Trick: He was alleged by the managed workers.