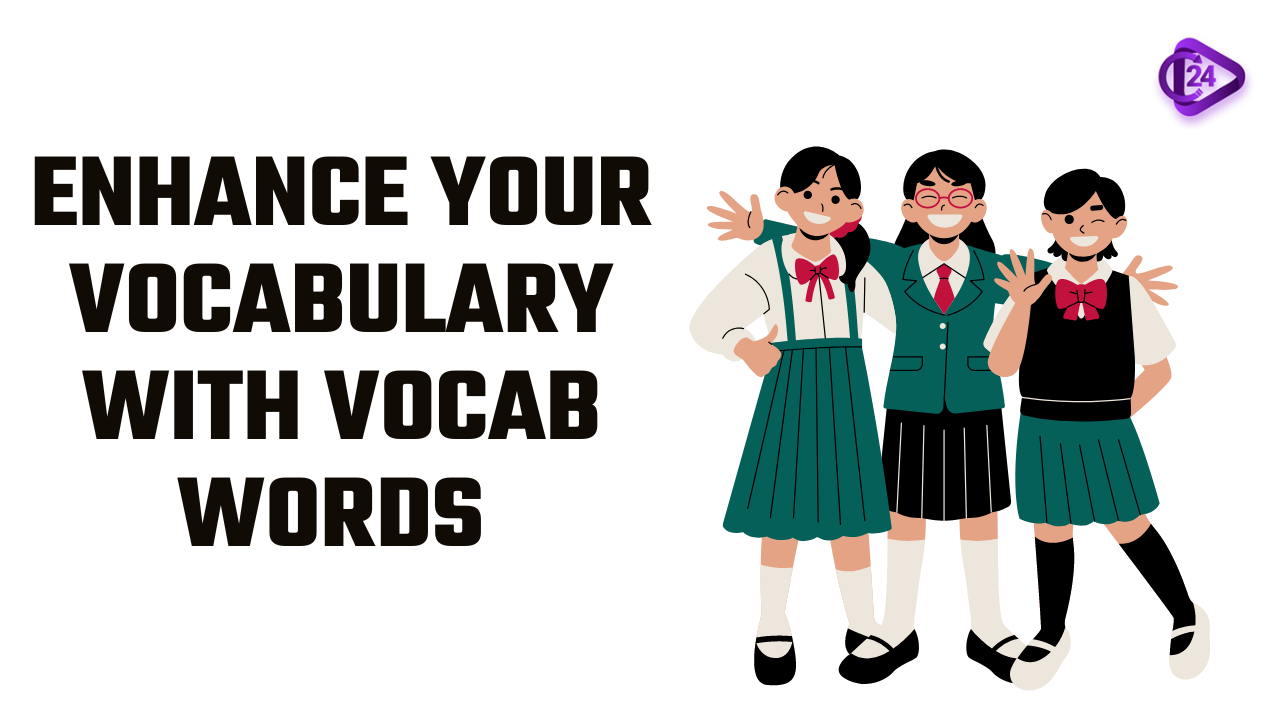 We don't need to tell you the importance of speaking fluent English. Be it facing any interview, interacting among peer groups, or gaining confidence in life in general, a person who is fluent in a global language will not feel out of place in any situation. Moreover, in many exams, vocabulary plays a major role in solving a variety of questions. So why wait, begin your learning with Class24.
1. Asserted: (verb)
Meaning: State a fact or belief confidently and forcefully. (जोर देना)
Synonym: Declare, Maintain, Contend, Argue
Antonym: Deny, Disavow, Disclaim, Negate
Example: He asserted that there were spies in the government.
Related Words:
Assertion, Assertive
Trick: The boss asserted on the diverted employees.
2. Agenda: (noun)
Meaning: A list of items to be discussed at a formal meeting. (कार्यसूची)
Synonym: Calendar, Plan, Program, Schedule
Antonym: Impartiality, Neutrality, Objectivity, Disinterest
Example: The committee set the agenda for the next several years of research.
Trick: Hume is agenda ka propaganda karna h.
3. Reiterated: (verb)
Meaning: Say something again or a number of times, typically for emphasis or clarity. (दोहराया)
Synonym: Repeat, Restate, Retell, Iterate
Antonym: Differ, Oppose, Reverse.
Example: The government has reiterated its refusal to compromise with terrorists.
Related Words:
Reiteration, Reiterating
Trick: They reiterated the twisted work.
4. Apparently: (adverb)
Meaning: Clearly visible or understood. (स्पष्ट)
Synonym: Possible, Probable, Supposed, Credible
Antonym: Unlikely, Doubtful, Dubious, Equivocal
Example: From the beginning, it was apparent that she was not an ordinary child.
Related Words:
Apparent
Trick: He is pungent but apparent.
5. Liberation: (noun)
Meaning: Freed from or opposed to traditional social and sexual attitudes or roles. (रिहा)
Synonym: Free, Release, Discharge, Deliver
Antonym: Confine, Enslave, Subjugate, Hold
Example: Rebels fought to liberate the country.
Related Words:
Liberated, Liberating
Trick: The guy was liberated stated innocent
1. Slammed: (verb)
Meaning: Shut (a door, window, or lid) forcefully and loudly. (पराजित करना)
Synonym: Bang, Attacked, Scolded, Blasted
Antonym: Loose, Open, Slack, Unsealed
Example: He slammed the door in my face.
Related Words:
Slamming
Trick: They scammed their money and slammed them on the ground.
2. Pertaining: (verb)
Meaning: To exist or apply in a particular situation or at a particular time (संबंधित)
Synonym: concern, connected, referring, related
Antonym: ignore, disregard, slight
Example: The laws pertaining to immigration.
Related Words:
Pertain
Trick: Ye situation unhi rules se pertaining h jinhe attain krna jaruri h.
3. Disputes: (verb)
Meaning: Argue about (something). (विवादित)
Synonym: Debate, Discuss, Quarrel, Argue
Antonym: Certain, Definite, Sure, Agreeable
Example: You can dispute your bill if you believe it is inaccurate.
Related Words:
Disputing, Disputedly, Disputed
Trick: Frustrated insaan disputed hi rehta h.
4. Convened: (verb)
Meaning: To come together or to bring people together for a meeting, etc. (आयोजित करना)
Synonym: Summon, Call, Order, Hold.
Antonym: Disperse, Divide, Scatter, Separate.
Example: We convened at the hotel for a seminar.
Related words:
Convening, Conventional.
Trick: We are urging for the convening of the party.
5. Appeal: (verb)
Meaning: Make a serious, urgent, or heartfelt request. (याचना करना)
Synonym: Application, Bid, Call, Claim
Antonym: Answer, Reply, Denial, Disavowal
Example: The mayor made an appeal to the people of the city to stay calm.
Related Words:
Appealing, Appealed, Appealingly
Trick: He appeals for the meal.
As always, if you have any questions or feedback, we'd love to hear from you. You can reach us on support@class24.study or
Call support - +91 78498 41445,+91 83029 72601,+91 78775 18210
Related Article: Govt Exam Preparation