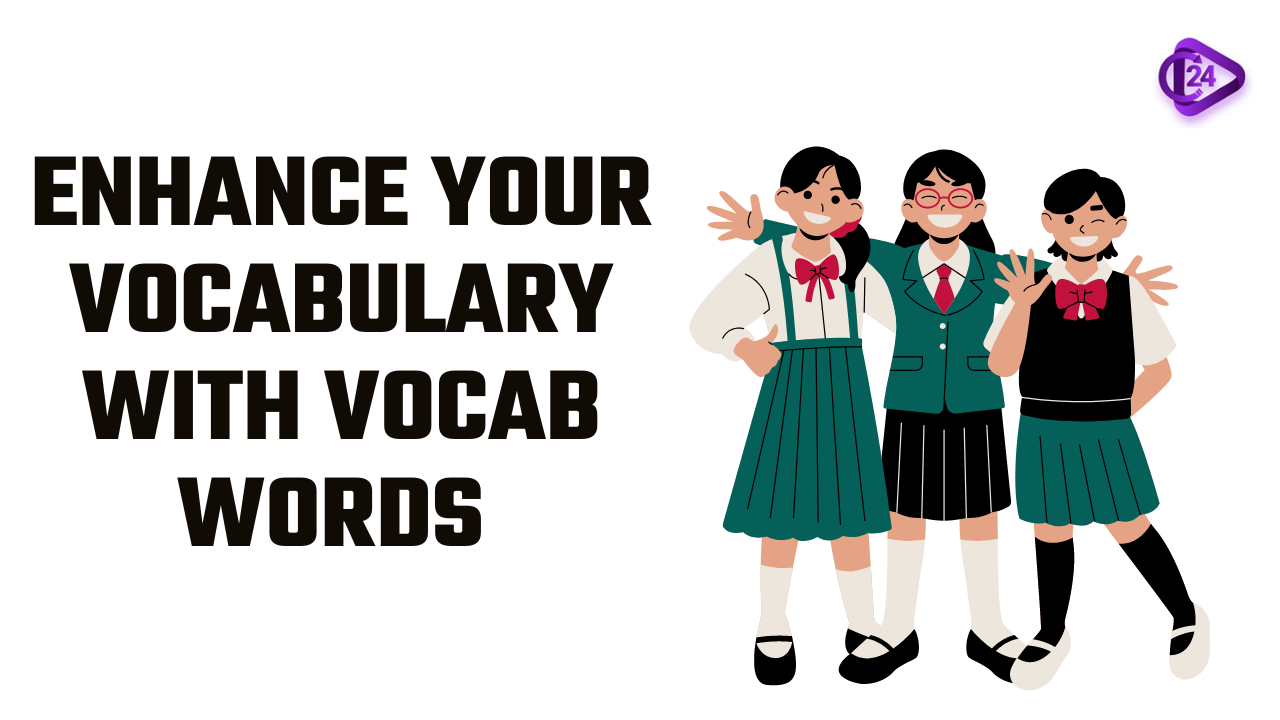 We don't need to tell you the importance of speaking fluent English. Be it facing any interview, interacting among peer groups, or gaining confidence in life in general, a person who is fluent in a global language will not feel out of place in any situation. Moreover, in many exams, vocabulary plays a major role in solving a variety of questions. So why wait, begin your learning with Class24.
Bow: (noun)
Meaning: To express by bending the head, body, or knee (झुकना)
Synonym: Bend, Turning, Inclination, Curve
Antonym: Straighten, Defend, Fight, Overpower
Example: He bowed slightly before taking her bag.
Trick: Hum bow karte hue hi grow hue h.
Related Words:
Bowed, Bowing
Bureaucracy: (noun)
Meaning: A system of government in which most of the important decisions are taken by state officials rather than by elected representatives. (नौकरशाही)
Synonym: Civil Service, Administration, Government, Directorate.
Antonym: Adhocracy, Nonsupervisory, Nonmanagerial
Example: She has a good grasp of how the bureaucracy works.
Related words:
Bureaucratic, Bureaucratize, Bureaucratically
Trick: Bureaucracy has its own supremacy
Vigilance: (noun)
Meaning: The action or state of keeping careful watch for possible danger or difficulties. (जागरूकता)
Synonym: Alertness, Caution, Diligence, Surveillance
Antonym: Indifference, Neglect, Carelessness, Impulsiveness
Example: They were vigilant about protecting their children.
Related Words:
Vigilant, Vigilantly
Trick: Everyone should be vigilance about the maintenance of the environment.
Commit: (verb)
Meaning: The state or quality of being dedicated to a cause, activity, etc. (प्रतिबद्धता)
Synonym: Engagement, Guarantee, Need, Pledge
Antonym: Break, Breach, Irresponsibility, Denial
Example: The church has a commitment to helping the poor.
Related Words:
Committed, Committing, Committedly
Trick: The architect's commitment is good for establishment.
Tenure: (noun)
Meaning: The conditions under which land or buildings are held or occupied. (कार्यकाल)
Synonym: Tenancy, Occupancy, Holding, Residence
Antonym: Subordination, Submission, Compliance, Obedience
Example: During his tenure as head coach, the team won the
Related Words:
Tenured
championship twice.
Trick: Yeh tenure builder ki saari problems ka cure h.
Monitored: (verb)
Meaning: Observe and check the progress or quality of (something) over a period of time. (नजर रखी)
Synonym: Coordinated, Managed, Organized, Standardized
Antonym: Indefinite, Unfixed, Confused, Disarranged
Example: We need to monitor the transaction of smaller deals.
Related Words:
Monitoring, Monitorial
Trick: Guards monitored the stored items.
Substantial: (adjective)
Meaning: Having a firm basis in reality and so important, meaningful, or considerable. (मूल)
Synonym: Considerable, Substantial, Significant, Sizeable
Antonym: Insignificant, Inconsequential, Nominal, Negligible
Example: These changes are more symbolic than substantive
Related Words:
Substantially, Substantive
Trick: The substantial information is confidential.
Rejuvenation: (noun)
Meaning: Restore a youthful appearance to. (नया करना)
Synonym: Restore, Revive, Refresh, Recreate
Antonym: Kill, Suppress, Extinguish, Quench
Example: Each candidate claims to have a plan to rejuvenate the sagging economy.
Related Words:
Rejuvenating, Rejuvenated, Rejuvenatingly
Trick: He is passionate to rejuvenate the old things.
Integrity: (noun)
Meaning: The quality of being honest and having strong moral principles. (अखंडता)
Synonym: Honesty, Uprightness, Probity, Rectitude
Antonym: Deceit, Dishonesty, Corruption, Disgrace
Example: He was a man of integrity
Related Words:
Integrally
Trick: The mankind power is integrity and probity
Appreciated: (verb)
Meaning: To value or admire highly. (अधिमूल्यित)
Synonym: Value, Respect, Prize, Cherish
Antonym: Criticize, Decrease, Depreciate, Disparage
Example: I really appreciated the information you gave me.
Related Words:
Appreciating, Appreciation, Appreciative, Appreciatively
Trick: The boy was appreciated as he created great project.
As always, if you have any questions or feedback, we'd love to hear from you. You can reach us on support@class24.study or
Call support - +91 78498 41445,+91 83029 72601,+91 78775 18210
Let's connect with CLASS24
🚀 Download the Class24 App here: