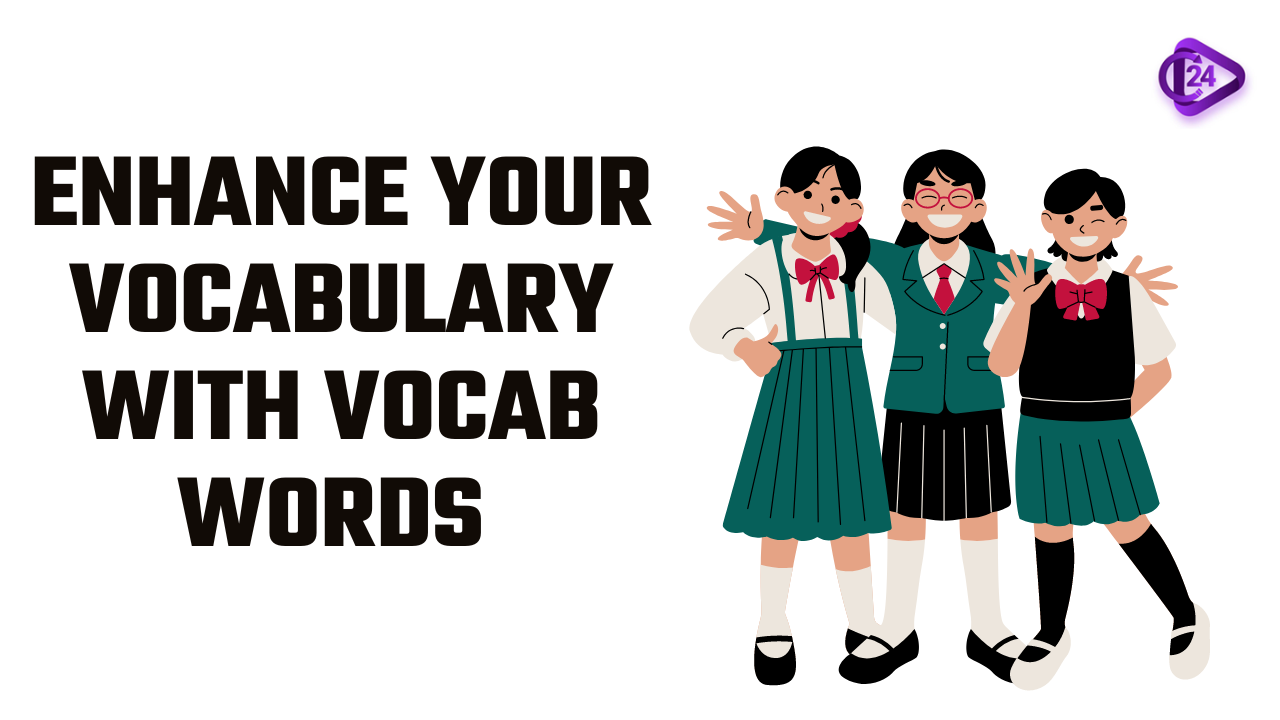 We don't need to tell you the importance of speaking fluent English. Be it facing any interview, interacting among peer groups, or gaining confidence in life in general, a person who is fluent in a global language will not feel out of place in any situation. Moreover, in many exams, vocabulary plays a major role in solving a variety of questions. So why wait, begin your learning with Class24.
Dedicated: (adjective)
Meaning: Devoted to a task or purpose. (समर्पित)
Synonym: Committed, Devoted, Staunch, Stalwart
Antonym: Apathetic, Disloyal, Inconstant, Indifferent
Example: I dedicated ten years of my life to the project
Related Words:
Dedication, Dedicating
Trick: The firm was dedicated to achieve target as they illustrated everything.
Mandate: (noun)
Meaning: The power that is officially given to a group of people to do something, especially after they have won an election. (अधिदेश)
Synonym: Instruction, Directive, Direction, Decree.
Antonym: Breach, Break, Denial, Question.
Example: Royal mandates must be obeyed.
Related words:
Mandated, Mandating, Mandatory, Mandatorily
Trick: These rules are madate and sophisticate.
Inaugural: (adjective)
Meaning: Begin or introduce (a system, policy, or period). (अभिषेक करना)
Synonym: Initiate, Begin, Start, Institute
Antonym: End, Wind Up, Conclude, Finish
Example: The new President will be inaugurated on January 20.
Related Words:
Inaugural, Inauguration, Inaugurating
Trick: The inaugural of hospital is done in rural area.
Criticized: (verb)
Meaning: Indicate the faults of (someone or something) in a disapproving way. (आलोचना)
Synonym: Blame, Blast, Castigate, Censure
Antonym: Approve, Commend, Compliment, Exonerate
Example: His boss criticized him for his sloppy work habits.
Related words:
Critical, Criticism, Criticizing
Trick: The boss is criticizing and analyzing the employees.
Campaign: (noun)
Meaning: A plan to do a number of things in order to achieve a special aim. (अभियान)
Synonym: Crusade, Drive, Push, Effort.
Antonym: Inaction, Prevent, Hinder, Inhibit.
Example: I'd better get my campaign manager cracking.
Related words:
Campaigned, Campaigning.
Trick: This campaign held in different reign.
Discriminate: (verb)
Meaning: Make an unjust or prejudicial distinction in the treatment of different categories of people, especially on the grounds of ethnicity, sex, age, or disability. (साथ भेदभाव)
Synonym: Bigotry, Favoritism, Hatred, Inequity
Antonym: Equity, Fairness, Impartiality, Justice
Example: She felt she had been discriminated against because of her age.
Related Words:
Discrimination, Discriminating, Discriminately, Discriminated
Trick: This list stated the list of discriminated people.
Anarchy: (noun)
Meaning: A state of disorder due to absence or non-recognition of authority or other controlling systems. (अराजकता)
Synonym: Chaos, Confusion, Disorder, Disorganization
Antonym: Calm, Harmony, Order, Peace
Example: What we are witnessing is the country's slow slide into anarchy.
Related Words:
Anarchistic, Anarchize, Anarchically
Trick: The anarchy occurs in absence hierarchy.
Attention: (noun)
Meaning: Notice taken of someone or something (ध्यान)
Synonym: Awareness, Notice, Observation, Consciousness
Antonym: Disregard, Indifference, Laziness, Lethargy
Example: We focused our attention on this particular poem
Related Words:
Attentive, Attentively
Trick: He was seeking attention from his actions.
Apparent: (adjective)
Meaning: Clearly visible or understood. (स्पष्ट)
Synonym: Possible, Probable, Supposed, Credible
Antonym: Unlikely, Doubtful, Dubious, Equivocal
Example: From the beginning, it was apparent that she was not an ordinary child.
Related Words:
Apparently
Trick: He is pungent but apparent.
Ridiculed: (verb)
Meaning: Subject to contemptuous and dismissive language or behaviour. (उपहास)
Synonym: Deride, Mock, Taunt.
Antonym: Praise, Admiration, Approval.
Example: I was not ridiculing them or saying that they should not make that point.
Related Words:
Ridiculous, Ridiculous, Ridiculously, Ridiculing
Trick: The people ridicule the one who rule
As always, if you have any questions or feedback, we'd love to hear from you. You can reach us on support@class24.study or
Call support - +91 78498 41445,+91 83029 72601,+91 78775 18210
Let's connect with CLASS24
🚀 Download the Class24 App here:
Related Article: Best Online learning platform in Indi