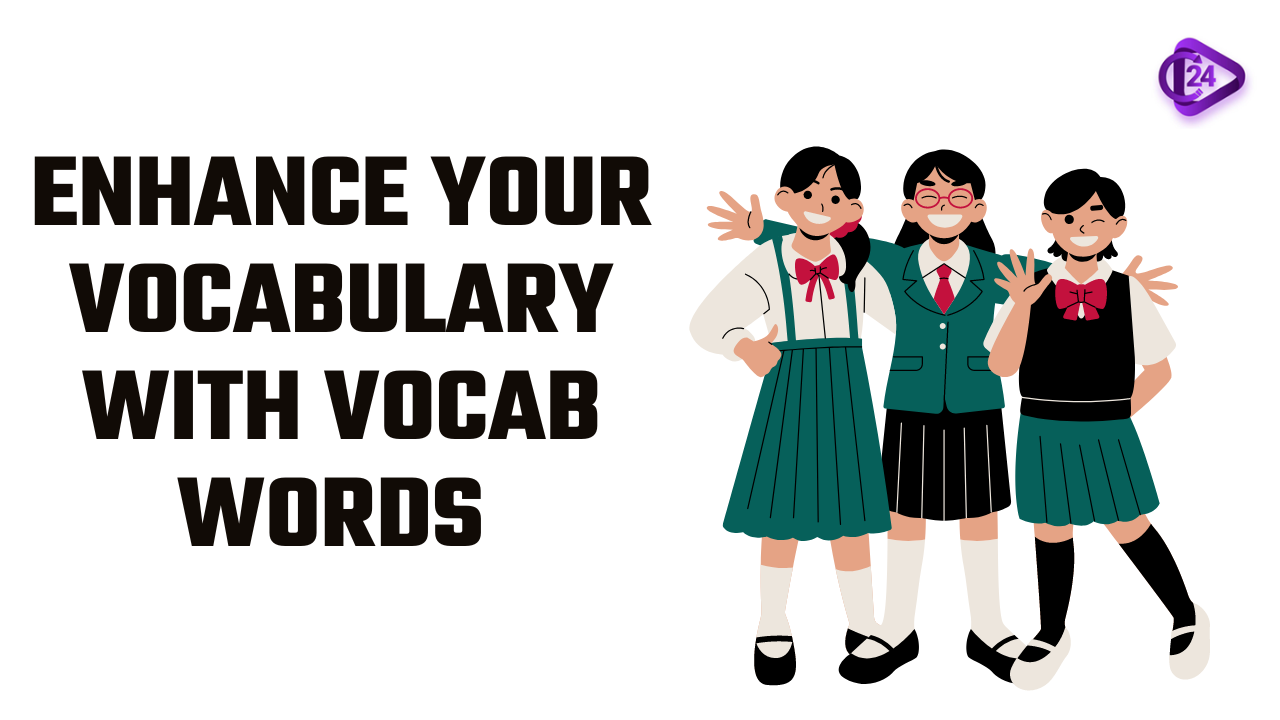 We don't need to tell you the importance of speaking fluent English. Be it facing any interview, interacting among peer groups, or gaining confidence in life in general, a person who is fluent in a global language will not feel out of place in any situation. Moreover, in many exams, vocabulary plays a major role in solving a variety of questions. So why wait, begin your learning with Class24.
Interact: (verb)
Meaning: Act in such a way as to have an effect on each other. (बातचीत)
Synonym: Interrelate, Interchange, Link, Interconnect
Antonym: Discord, Divorce, Separation.
Example: Dominique's teacher says that she interacts well with the other children.
Related Words:
Interaction, Interactive, Interacting, Interacted
Trick: They all rejected the interacted way.
Worsened: (verb)
Meaning: Make or become worse. (कमी)
Synonym: Aggravate, Exacerbate, Compound, Intensify
Antonym: Recovery, Rehabilitation, Healing, Convalescence
Example: The political situation is steadily worsening.
Related words:
Worsening
Trick: The situation is worsening and the teammates are deflecting themselves.
Requisitioned: (verb)
Meaning: An official order laying claim to the use of property or materials. (मांग)
Synonym: Order, Request, Call, Application
Antonym: Permit, Inaccessibility, Unavailability
Example: The officer requisitioned supplies for his troops.
Related Words:
Requisition
Trick: Apni position se jyada requisition nahi karni chahiye.
Domination: (noun)
Meaning: Having power and influence over others. (प्रभुत्व वाला)
Synonym: Presiding, Ruling, Governing, Controlling
Antonym: Auxiliary, Extra, Impotent, Incapable
Example: The ruler was depicted as dominant by his size, costume, and actions.
Related Words:
Dominance, Dominatingly
Trick: Dominant powers can cause rampant situation.
Deployed: (verb)
Meaning: To put soldiers or weapons in a position where they are ready to fight. (तैनात करना)
Synonym: Position, Station, Post, Place.
Antonym: Concentrate, Conclude, Finish, Conceal.
Example: The troops were deployed for battle.
Related words:
Deployment, Deplorably, Deploying
Trick: Assembly me boys ko deploy kiya
Provisioned: (verb)
Meaning: The action of providing or supplying something for use. (प्रावधान)
Synonym: Arrangement, Plan, Accouterment, Catering
Antonym: Removal, Taking, Poison
Example: I carried my provisions in one large backpack.
Related Words:
Provision, Provisioning
Trick: The provision is made to clear the vision about the law.
Deliberate: (adjective)
Meaning: Done consciously and intentionally. (सोचा-समझा)
Synonym: Intentional, Calculated, Conscious, Planned
Antonym: Accidental, Unintentional, Careless, Heedless
Example: She spoke in a clear, deliberate manner/way.
Related Words:
Deliberation, Deliberated, Deliberately
Trick: The deliberation is done by foundation.
Prevented: (verb)
Meaning: keep (something) from happening. (रोकना)
Synonym: avert, avoid, bar, block
Antonym: approve, assist, continue, encourage
Example: You can't prevent my leaving.
Related Words:
Prevention, Preventive, Preventing, Preventively
Trick: They helped us to prevent from this bad event.
Suspension: (noun)
Meaning: Imposed by a judge or court but not enforced as long as no further offence is committed within a specified period. (निलंबन)
Synonym: Adjournment, Interruption, Delay, Stay
Antonym: Continuation, Resumption, Beginning, Opening
Example: He was angry about his suspension from the team.
Related words:
Suspended
Trick: The suspension of the man caused him caution.
Ensure: (verb)
Meaning: Make certain that (something) will occur or be the case. (सुनिश्चित)
Synonym: Secure, Guarantee, Warrant, Certify
Antonym: Hurt, Forget, Ignore, Invalidate.
Example: The company's sole concern is to ensure the safety of its employees.
Related Words:
Ensured, Ensuring
Trick: The doctor ensures to cure the disease.
As always, if you have any questions or feedback, we'd love to hear from you. You can reach us on support@class24.study or
Call support - +91 78498 41445,+91 83029 72601,+91 78775 18210
Let's connect with CLASS24
🚀 Download the Class24 App here: