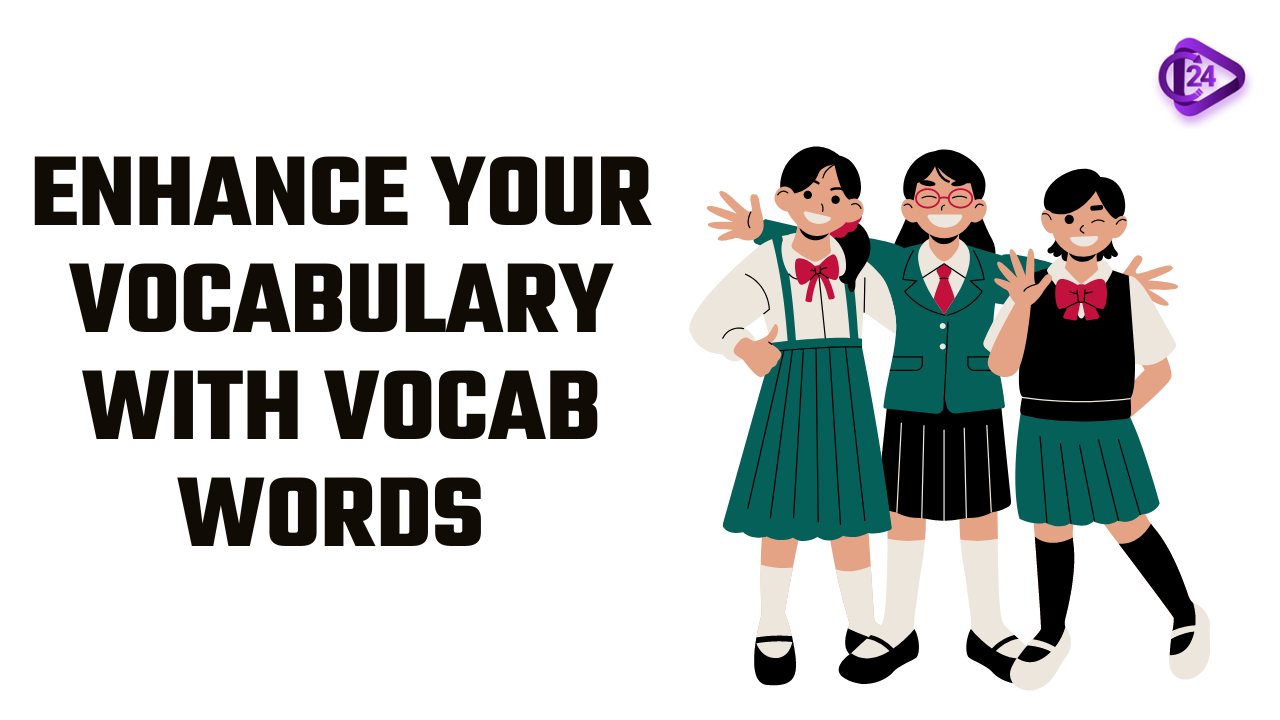 We don't need to tell you the importance of speaking fluent English. Be it facing any interview, interacting among peer groups, or gaining confidence in life in general, a person who is fluent in a global language will not feel out of place in any situation. Moreover, in many exams, vocabulary plays a major role in solving a variety of questions. So why wait, begin your learning with Class24.
Seeking: (verb)
Meaning: Attempt to find (something). (मांगना)
Synonym: Explore, Follow, Investigate, Pursue
Antonym: Ignore, Shun, Answer, Find
Example: The office is seeking a salesperson.
Related Words:
Seek, Seekable, Seekingly
Trick: They are seeking for the streaking part.
Prevent: (verb)
Meaning: Keep (something) from happening. (रोकना)
Synonym: Avert, Avoid, Bar, Block
Antonym: Approve, Assist, Continue, Encourage
Example: You can't prevent my leaving.
Related Words:
Prevention, Preventive, Prevented, Preventing, Preventively
Trick: They helped us to prevent from this bad event.
Infrastructure: (noun)
Meaning: The basic physical and organizational structures and facilities (e.g. buildings, roads, power supplies) needed for the operation of a society or enterprise. (आधारिक संरचना)
Synonym: Architecture, Structure, Framework, Configuration.
Antonym: Dissolution, Disarrangement, Chaos, Confusion
Example: More money is needed to save the crumbling infrastructure of the nation's rural areas.
Related Words:
Infrastructural
Trick: The infrastructure is in good structure
Seems: (verb)
Meaning: Give the impression of being something or having a particular quality. (प्रतीत हुआ)
Synonym: Imply, Look, Show, Sound
Antonym: Deny, Gainsay, Conceal, Disclaim
Example: She seemed happy enough this morning.
Related Words:
Seeming, Seemly, Seemed
Trick: They seemed to be redeemed.
Posed: (verb)
Meaning: Present or constitute (a problem or danger). (उत्पन्न)
Synonym: Constitute, Present, Create, Cause
Antonym: Honesty, Reality, Truth, Movement
Example: The students were deported because they posed a threat to national security.
Related Words:
Posing
Trick: The models pose were exposed
Victim: (noun)
Meaning: A person harmed, injured, or killed as a result of a crime, accident, or other event or action. (शिकार)
Synonym: Sufferer, Casualty, Fatality, Loser
Antonym: Attacker, Assailant, Criminal, Culprit.
Example: Not all the victims survived.
Related Words:
Victimized, Victimizing, Victimized
Trick: The victim's wounds are interim
Announced: (verb)
Meaning: Make a formal public statement about a fact, occurrence, or intention. (घोषणा)
Synonym: Call, Declare, Disclose, Issue
Antonym: Conceal, Hide, Hold, Keep
Example: The government announced a cut in taxes.
Related Words:
Announcing, Announcement
Trick: The manager was announcing the enhancing technique.
Negligence: (noun)
Meaning: Suffering a lack of proper care. (उपेक्षित)
Synonym: Abandon, Forsake, Mistreated, Abandoned
Antonym: Cherish, Look After, Neat, Clean
Example: The building has been neglected for years.
Related Words:
Negligent, Neglected, Neglectfully
Trick: Negligence of patience can cause trouble
Probe: (noun)
Meaning: A blunt-ended surgical instrument used for exploring a wound or part of the body. (जांच)
Synonym: Investigation, Examination, Inquest, Scrutiny
Antonym: Gentle, Idiotic, Kind, Nice.
Example: He didn't like the police probing him about his past.
Related Words:
Probing
Trick: You have to probe through this telescope.
Tragedy: (noun)
Meaning: An event causing great suffering, destruction, and distress, such as a serious accident, crime, or natural catastrophe. (त्रासदी)
Synonym: Disaster, Calamity, Catastrophe, Cataclysm
Antonym: Fortune, Joy, Advantage, Benefit
Example: Her son's death was a terrible tragedy.
Related Words:
Tragic, Tragically
Trick: The tragedy changes the strategy