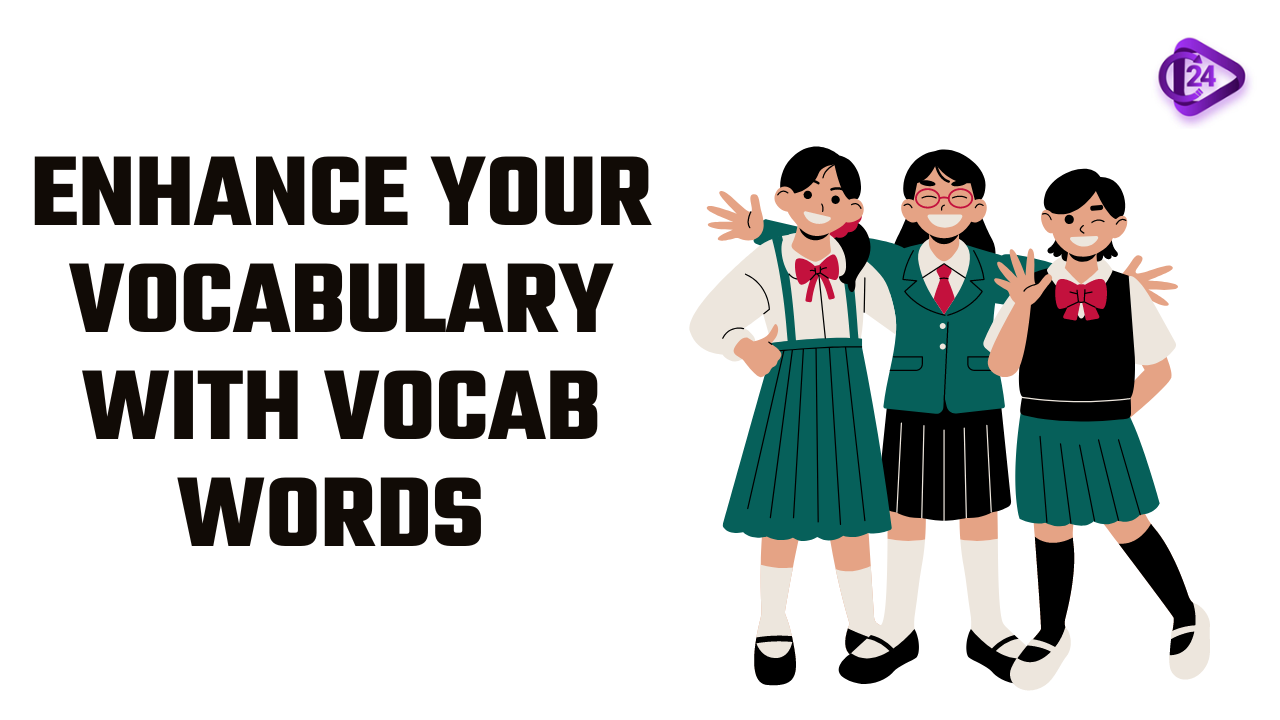 We don't need to tell you the importance of speaking fluent English. Be it facing any interview, interacting among peer groups, or gaining confidence in life in general, a person who is fluent in a global language will not feel out of place in any situation. Moreover, in many exams, vocabulary plays a major role in solving a variety of questions. So why wait, begin your learning with Class24.
Stabbed: (verb)
Meaning: Thrust a knife or other pointed weapon into (someone) so as to wound or kill. (घोंपना)
Synonym: Knife, Skewer, Spear, Bayonet
Antonym: Rise, Help, Cure, Unite
Example: A stitch stabbed at her side
Related Words:
Stabbing
Trick: The man grabbed the dog and stabbed knife into him.
Penalty: (noun)
Meaning: A punishment imposed for breaking a law, rule, or contract. (दंड)
Synonym: Punishment, Sanction, Retribution, Penance
Antonym: Reward, Advantage, Benefit, Gain
Example: The company was given a severe penalty for the violation.
Related Words:
Penalize
Trick: There would be a penalty for casualty
Accused: (noun)
Meaning: A person or group of people who are charged with or on trial for a crime. (आरोपी)
Synonym: Arraigned, Implicated, Incriminated, Indicted
Antonym: Acquitted, Clear, Discharged
Example: He was accused of stealing the money.
Related Words:
Accusing, Accusingly
Trick: The accused person has abused the law.
Harassment: (noun)
Meaning: Aggressive pressure or intimidation. (उत्पीडन)
Synonym: Persecution, Harrying, Pestering, Badgering.
Antonym: Cooperation, Assistance, Aid, Comfort.
Example: The university condemns all forms of harassment.
Related words:
Harassing
Trick: People harass the poetess.
Victim: (noun)
Meaning: A person harmed, injured, or killed as a result of a crime, accident, or other event or action. (शिकार)
Synonym: Sufferer, Casualty, Fatality, Loser
Antonym: Attacker, Assailant, Criminal, Culprit.
Example: Not all the victims survived.
Related Words:
Victimized, Victimizing, Victimized
Trick: The victim's wounds are interim
Allegedly: (adverb)
Meaning: Said, without proof, to have taken place or to have a specified illegal or undesirable quality. (कथित)
Synonym: Supposed, Professed, Purported, Apparent
Antonym: Proved, Verifiable, Stated, Tried-And-True.
Example: But sometimes there is also an element of fraud from the alleged victim.
Related Words:
Allegation, Alleged
Trick: He was alleged by the managed workers.
Intended: (verb)
Meaning: An aim or plan (इरादा)
Synonym: Aim, Hope, Motive, Objective
Antonym: Flexible, Indefinite, Soft, Trivial
Example: She announced her intention to run for governor.
Related Words:
Intention, Intentionally
Trick: His intention was the correction of laws.
Threatened: (verb)
Meaning: A statement of an intention to inflict pain, injury, damage, or other hostile action on someone in retribution for something done or not done. (धमकी)
Synonym: Warning, Ultimatum, Commination, Menaces
Antonym: Certainty, Safety, Surety.
Example: The country is a great/major/serious threat to world peace.
Related words:
Threatening, Threateningly
Trick: Unke threats soch ko affect karte h
Traumatized: (verb)
Meaning: A deeply distressing or disturbing experience. (सदमा)
Synonym: Injury, Damage, Hurt, Wound
Antonym: Healing, Peace, Goodwill.
Example: She never fully recovered from the traumas she suffered during her childhood.
Related Words:
Traumatic, Traumatize, Traumatically
Trick: This trauma causes dilemma
Infuriated: (verb)
Meaning: To make somebody very angry (व्यथित)
Synonym: Enrage, Incense, Anger, Madden
Antonym: Appease, Calm, Comfort, Delight
Example: I was infuriated by their constant criticism
Related Words:
Infuriation, Infuriating, Infuriatedly
Trick: The child was infuriated as he was separated from her mother.