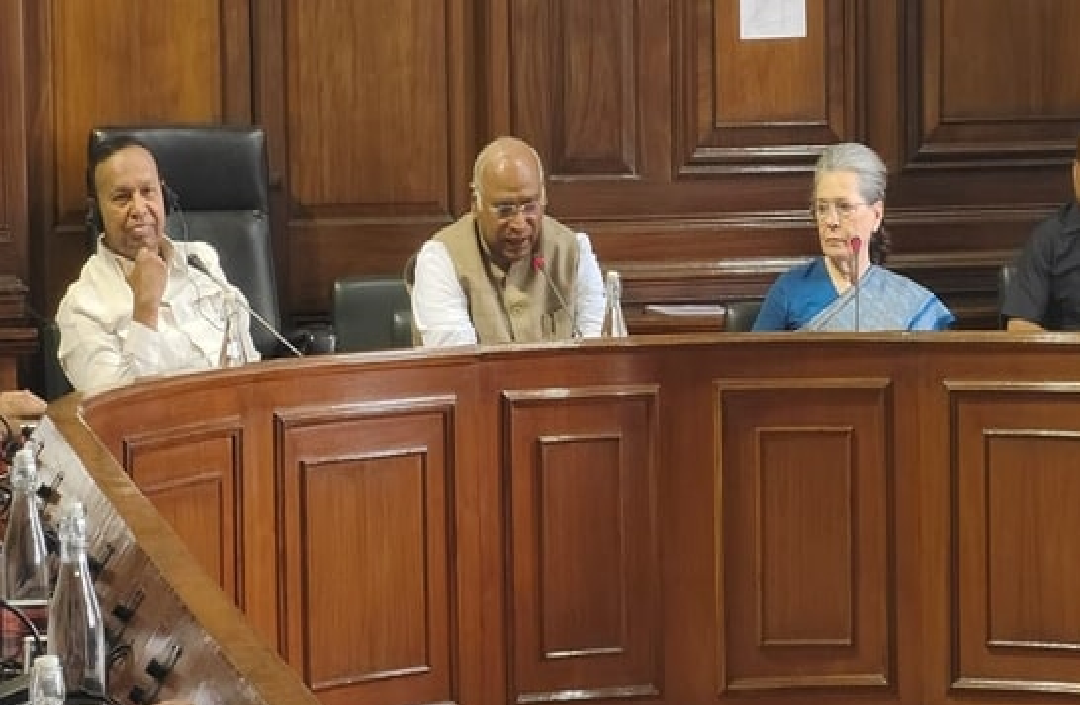 A total of 21 MPs visited Manipur to assess ground situation in the northeastern state that is engulfed in civil unrest since May 3.
A day after concluding their two-day visit to ethnic violence-hit Manipur, the delegation of MPs met with the floor leaders of the Opposition's I.N.D.I.A or Indian National Developmental Inclusive Alliance on Monday to brief them about the visit as well as chalk out a strategy ahead of the Parliament session. The Congress's parliamentary party chairperson Sonia Gandhi and party president Mallikarjun Kharge also attended the meeting held in the party's office in Parliament House.
A total of 21 MPs visited Manipur to assess the ground situation in the northeastern state, which has been engulfed in civil unrest since May 3. They also met with victims and visited relief camps. Congress leader Adhir Ranjan Chowdhury, who was part of the delegation, described the situation in Manipur as "grave". "Our demand is only to hold a discussion on no-confidence motion...The situation in Manipur is very serious...The country needs to be saved...BJP and its alliances should also tour Manipur…Everyone needs to analyse the situation in Manipur," he told the media ahead of the meeting. (Parliament LIVE updates)
Aam Aadmi Party leader Raghav Chadha said the bloc will inform about the Opposition's further move on Manipur after the meeting concludes. "The I.N.D.I.A alliance has come after wiping off the tears of the people of Manipur...Today, the MPs of the I.N.D.I.A bloc will explain the situation in Manipur in the meeting, after which we will inform you about our next move in regard to Manipur…," he said.
Delegation met with Manipur governor
The delegation met with Manipur governor Anusuiya Uikey on the second day of the visit on Sunday and handed her a memorandum, requesting to restore peace and harmony in the state. "You are also requested to apprise the Union Government of the complete breakdown of law and order in Manipur for the last 89 days so as to enable them to intervene in the precarious situation in Manipur to restore peace and normalcy," the memorandum read and referred to the silence of Prime Minister Narendra Modi on the issue as "his brazen indifference" to the violence.
The issue is expected to continue to shadow the parliamentary affairs today as the Opposition remains adamant on its demand to have Modi address both the Houses on Manipur, followed by a discussion on the matter. The Opposition also moved a no-confidence motion against the government last Wednesday in a bid to force Modi to speak on the matter. Meanwhile, the government said it was ready for a discussion but refuted the demand for the PM's statement.
Hindustan Times
(National)