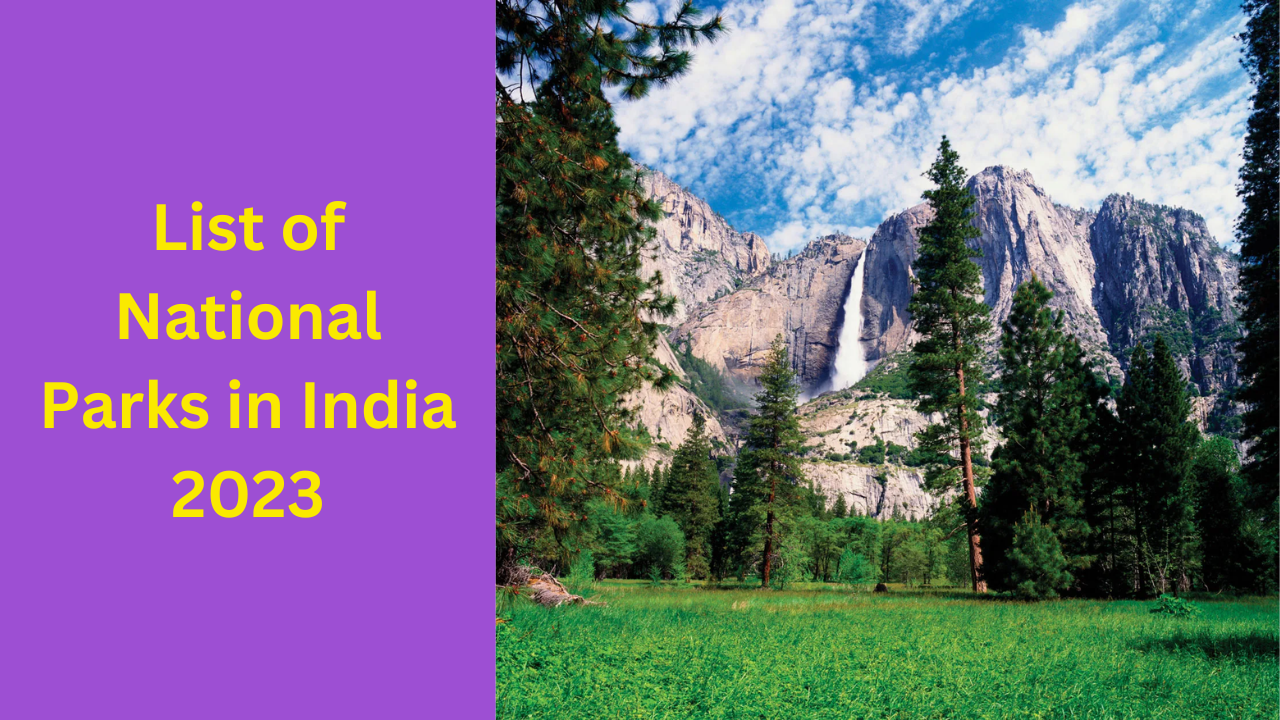 According to the data, shared by the EIACP Programme Centre "Wildlife & Protected Areas Management", which is hosted by the Wildlife Institute of India, Dehradun, and Sponsored by the Ministry of Environment, Forests & Climate Change, a total of 106 national parks exist in India, which cover an area of 44,402.95 km2. A National Park is a natural habitat, which is more restricted as compared to Wildlife Sanctuary. The boundaries of national parks are fixed, which aims to protect and conserve the environment.
The IUCN (International Union for Conservation of Nature) has categorized national parks in the category II protected areas of the IUCN list.
Some key facts about the National Parks in India:
Total Number of National Parks: 106

Total area covered: 40,501 sq.km.

Maximum National Park state: Andaman & Nicobar (9)

First National Park: Jim Corbett National Park (located in Uttarakhand)

Latest National Park: Kuno National Park (Madhya Pradesh)

Largest National Park: Hemis National Park (Ladakh)

Smallest National Park: South Button National Park (Andaman and Nicobar Island)
Restriction for National Park:
Human activity: No human activity is allowed in the national parks.

Grazing of livestock: Restricted

Private tenurial rights: Restricted

Hunt: Hunting is also restricted

National Parks cannot be downgraded to sanctuary.
List of National Parks in India (October 2023):
Name of State

Name of Protected Area

Year of Creation

Area
(in km2)

Andhra Pradesh

Papikonda

2008

1012.8588

Rajiv Gandhi (Rameswaram)

2005

2.3952

Sri Venkateswara

1989

353.62

Arunachal Pradesh

Mouling

1986

483.00

Namdapha

1983

1807.82

Assam

Dibru-Saikhowa

1999

340.00

Dihing Patkai

2021

234.26

Kaziranga

1974

889.51

Manas

1990

500.00

Nameri

1998

200.00

Rajiv Gandhi (Orang)

1999

78.81

Raimona

2021

422.00

Bihar

Valmiki

1989

335.65

Chhattisgarh

Guru Ghasidas (Sanjay)

1981

1440.71

Indravati (Kutru)

1982

1258.37

Kanger Valley

1982

200.00

Goa

Mollem

1992

107.00

Gujarat

Blackbuck (Velavadar)

1976

34.53

Gir

1975

258.71

Marine (Gulf of Kachchh)

1982

162.89

Vansda

1979

23.99

Haryana

Kalesar

2003

46.82

Sultanpur

1989

1.43

Himachal Pradesh

Great Himalayan

1984

754.40

Inderkilla

2010

94.00

Khirganga

2010

705.00

Pin Valley

1987

675.00

Col. Sherjung Simbalbara

2010

27.88

Jharkhand

Betla

1986

226.33

Karnataka

Anshi

1987

417.34

Bandipur

1974

872.24

Bannerghatta

1974

260.51

Kudremukh

1987

600.57

Nagarahole (Rajiv Gandhi)

1988

643.39

Kerala

Anamudi Shola

2003

7.50

Eravikulam

1978

97.00

Mathikettan Shola

2003

12.82

Pambadum Shola

2003

1.32

Periyar

1982

350.00

Silent Valley

1984

89.52

Madhya Pradesh

Bandhavgarh

1968

448.842

Dinosaur Fossils

2011

0.897

Fossil

1983

0.27

Pench

1975

292.857

Kanha

1955

941.793

Kuno

2018

748.761

Madhav

1959

375.23

Panna

1981

542.66

Sanjay

1981

464.643

Satpura

1981

528.729

Van Vihar

1979

4.452

Maharashtra

Chandoli

2004

317.67

Gugamal

1975

361.28

Nawegaon

1975

133.88

Pench (Jawaharlal Nehru)

1975

257.26

Sanjay Gandhi (Borivilli)

1983

86.96

Tadoba

1955

116.55

Manipur

Keibul-Lamjao

1977

40.00

Shiroi

1982

100.00

Meghalaya

Balphakram

1986

220.00

Nokrek Ridge

1997

47.48

Mizoram

Murlen

1991

100.00

Phawngpui (Blue Mountain)

1992

50.00

Nagaland

Intanki

1993

202.02

Odisha

Bhitarkanika

1988

145.00

Simlipal

1980

845.70

Rajasthan

Desert

1992

3162.00

Keoladeo Ghana

1981

28.73

Mukundra Hills

2006

200.54

Ranthambhore

1980

282.00

Sariska

1992

273.80

Sikkim

Khangchendzonga

1977

1784.00

Tamil Nadu

Guindy

1976

2.7057

Gulf of Mannar Marine

1980

526.02

Indira Gandhi (Annamalai)

1989

117.10

Mudumalai

1990

103.23

Mukurthi

1990

78.46

Telangana

Kasu Brahmananda Reddy

1994

1.425

Mahaveer Harina Vanasthali

1994

14.59

Mrugavani

1994

3.60

Tripura

Clouded Leopard

2007

5.08

Bison (Rajbari)

2007

31.63

Uttar Pradesh

Dudhwa

1977

490.00

Uttarakhand

Corbett

1936

520.82

Gangotri

1989

2390.02

Govind

1990

472.08

Nanda Devi

1982

624.60

Rajaji

1983

820.00

Valley of Flowers

1982

87.50

West Bengal

Buxa

1992

117.10

Gorumara

1992

79.45

Jaldapara

2014

216.34

Neora Valley

1986

159.8917

Singalila

1986

78.60

Sunderban

1984

1330.10

Andaman & Nicobar Islands

Campbell Bay

1992

426.23

Galathea Bay

1992

110.00

Mahatama Gandhi Marine (Wandoor)

1983

281.50

Mount Harriett

1987

46.62

Rani Jhansi Marine

1996

320.06

Saddle Peak

1987

32.54

Jammu & Kashmir

City Forest (Salim Ali)

1992

9.07

Dachigam

1981

141.00

Kazinag

2000

90.88

Kishtwar High Altitute

1981

2191.50

Ladakh

Hemis

1981

3350.00