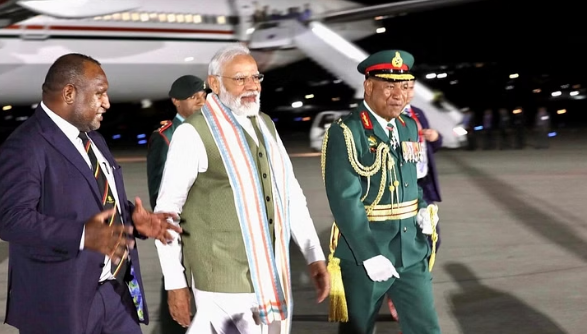 India's Prime Minister Narendra Modi held a summit with Pacific Island leaders in Papua New Guinea on Monday, with the U.S. Secretary of State scheduled to also meet the leaders later in the day and sign a defence agreement with Papua New Guinea.
In his opening remarks to the summit, PNG Prime Minister James Marape said India was the leader of the Global South, a term used to refer to some low- and middle-income countries, adding "our people have been left behind".
Modi told the 14 leaders of the Forum for India-Pacific Islands Cooperation that India would be a reliable partner to small island states amid difficulties caused by supply chain disruptions and climate change. India was committed to a free and open Indo Pacific, he said.
Earlier, Modi wrote on social media he had discussed "ways to augment cooperation in commerce, technology, healthcare and in addressing climate change" with PNG in a bilateral meeting with Marape on Monday.
U.S. Secretary of State Antony Blinken is expected to sign a Defence Cooperation Agreement between the United States and PNG, and also hold a Pacific Island leader meeting in the afternoon.
Washington would provide $45 million in new funds as it partnered with PNG to strengthen economic and security cooperation, including protective equipment for the PNG defence force, climate change mitigation and tackling transnational crime and HIV/AIDS, the U.S. State Department said.
The United States Commander for the Indo-Pacific Command, Admiral John Aquino, on Monday attended a ceremony at PNG's Murray Barracks to present personal protective equipment to PNG's defence force, the PNG Post Courier reported.
Marape told media on Sunday the defence agreement would also see an increase in the U.S. military presence over the next decade.
Police Commissioner David Manning said there was a heavy police and military presence around the capital Port Moresby with roads blocked, and defence patrol boats in the water around the meeting venue, for the biggest assembly of international leaders in the country since a 2018 APEC summit.
Several universities held protests at campuses against the signing of the Defence Cooperation Agreement, amid concern it would upset China. Marape has denied it would stop PNG working with China, an important trade partner.
China, a major provider of infrastructure to the Pacific Islands in recent years, signed a security pact with Solomon Islands last year, prompting concern from the United States and its allies over Beijing's intentions in a region covering vital sea lanes.
The U.S. defence agreement would boost PNG's defence infrastructure and capability after decades of neglect, the PNG government said earlier.
New Zealand Prime Minister Chris Hipkins told reporters in Port Moresby the defence agreement between the United States and PNG was "an extension of an existing relationship and it isn't just about military presence but it's also about development".
Blinken will also sign a Ship Riders Pact, allowing U.S. Coast Guard vessels with PNG officials aboard to patrol its exclusive economic zone, PNG's government said in a statement on Monday.
The Print
(National)
As always, if you have any questions or feedback, we'd love to hear from you. You can reach us on support@class24.study or
Call support - +91 78498 41445,+91 83029 72601,+91 78775 18210
Let's connect with CLASS24
🚀 Download the Class24 App here:
Related Articles:-
India's best online learning platform
Study govt exam
best platform for government exam preparation
best online coaching for ras
rrb alp technician coaching
nagar palika eo previous year question paper
best ras test series
best test series for ras
best test series for ras pre
ras prelims preparation
ras free study material
govt exam aspirant app for pc
online government exams preparations
rrb alp technician online course
kvs librarian online coaching
ras pre preparation
shipra mam biology
class 24
class24 app
class 24 bhunesh sir
class 24 app
class 24 app download for pc
study 24
ras preparation strategy
rajasthan informatics assistant coaching
free ras study material
rrb alp technician online coaching
kvs librarian online coaching,
best online test series for ras
best online test series for ras
top exam preparation portal in India< best YouTube channel for ras preparation
best online study platform
how to start ras exam preparation
best online platform for govt exam preparation
best online course for competitive exams
best online coaching for kvs
competitive exam app
free online competitive exam preparation
best online classes for ssc chsl
defense exam preparation
best online test platform
best study website
best learning platform in India
best online classes for ssc chsl