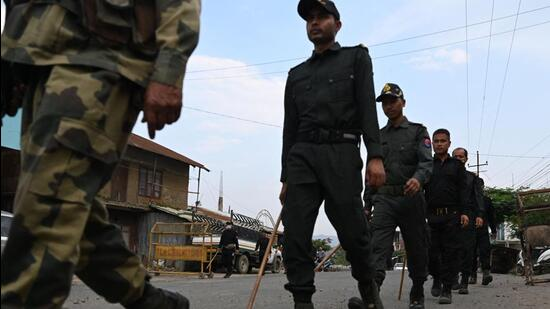 Supreme Court has decided to monitor the rescue, relief and rehabilitation measures in Manipur, which has been rocked by ethnic violence, claiming at least 73 lives since May 3.
AIZWAL: Several tribal groups of Manipur and the 10 tribal legislators, who last week sought a separate administration for tribal areas, have decided against holding negotiations with the present Manipur government.
The assertion was made in a statement issued by the delegates after a meeting in Mizoram capital Aizwal on Wednesday, a follow-up to the demand of 10 Manipur MLAs from the Kuki tribe (including seven from the ruling Bharatiya Janata Party) who sought a separate administration under the Constitution for areas where the Kuki, Hmar and Zomi communities reside.
"The meeting resolved to stand unitedly to face the present communal crisis and not to engage in any dialogue or talk with the present Manipur government," a statement issued by the delegates late on Wednesday evening said.
The delegates also decided to hold "consultations on a wider scale at the earliest so as to arrive on a logistic common political agenda with other groups", it said.
Apart from the tribal MLAs, leaders of the Indigenous Tribal Leaders' Forum (ITLF), Kuki Inpi Manipur (KIM), Zomi Council, Hmar Inpui (HI) and other civil society organisations (CSOs) from Manipur participated in the meeting.
They also thanked the Mizoram government, churches and NGOs for taking care of thousands of people who were displaced due to the ethnic violence in Manipur and are sheltered in Mizoram. Over 6,600 people from Manipur are in camps in six Mizoram districts.
Manipur witnessed intense ethnic violence between May 3 and 5, with at least 73 people killed in clashes between the Meitei and the Kuki, sparked by a protest march by the Kuki against a Manipur high court order that asked the state government to recommend to the Union government that the Meitei be granted scheduled tribe status. The Supreme Court on Wednesday took a grim view of the high court's directive, saying that it was a "completely wrong order".
To be sure, Manipur chief minister N Biren Singh, who discussed the situation in Manipur at his meeting with Union home minister Amit Shah on May 15 (Monday), announced that the Union government has assured him that there is no question of splitting the state and that there can be no compromise on its unity and integrity.
Hindustan Times
(National)
As always, if you have any questions or feedback, we'd love to hear from you. You can reach us on support@class24.study or
Call support - +91 78498 41445,+91 83029 72601,+91 78775 18210
Let's connect with CLASS24
🚀 Download the Class24 App here: