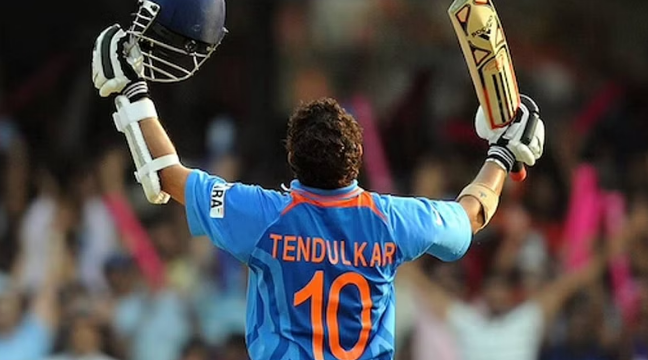 The only time I doubted myself in my entire career was in the first Test match I played, against Pakistan's (cricket players) Wasim (Akram), Waqar (Younis), Imran (Khan) and (Abdul) Qadir," legendary Indian batsman and former cricket team captain Sachin Tendulkar, said in an interview published in the Hindustan Times.
"After I got out in the first innings, I came back to the dressing room and asked myself whether I was good enough to handle this level of cricket," he said.
Tendulkar added: "I questioned myself because I didn't realise that I was playing possibly the leading attack in the world at that time", going on to explain that "if I had played against a side that didn't have a great fast-bowling attack, I could have still handled it, but I was exposed to express pace and I had not experienced that. Nobody had… At age 16, it was an acid test".
The cricket legend who turned 50 Monday, was referring to a 15 November, 1989, match when India and Pakistan played each other in Karachi. Tendulkar had made his debut at the match, when he was only 16 years old.
In the second Test, he said, he did not look at the scoreboard, but only took stock of time. This worked for him and helped him score 59 runs.
Despite his initial misgivings, Tendulkar went on to play for India for 24 years, captained the national cricket team between 1996 and 2000, and came to be regarded as one of the greatest batsmen of all time.
He also became the highest run-scorer in both One Day International (ODI) and Test cricket and earned the title of 'Master Blaster'.
Winner of numerous national awards, the cricket icon was nominated to the Rajya Sabha after having retired from all forms of cricket in November 2013, after playing his 200th Test match.
When asked if it was difficult to say goodbye to cricket after representing his country for 24 years, Tendulkar said that "it wasn't".
Explaining his decision to retire, Tendulkar said that one day, during an ongoing Champions League (Twenty20 tournament), he missed a couple of training sessions.
"I didn't practice, I didn't go to the gym. And I had never done that in my life before," he said.
"It made me wonder whether my body and mind were telling me that these things didn't matter anymore. I was comfortable sitting in my room and watching TV," he said, adding that this was when he discussed the thought of retirement with his brother and wife.
"It is all about the experience, and that last experience was wonderful for me. I would not change it for the world," said Tendulkar, calling himself a "content athlete".
The Print
(National)
As always, if you have any questions or feedback, we'd love to hear from you. You can reach us on support@class24.study or
Call support - +91 78498 41445,+91 83029 72601,+91 78775 18210
Let's connect with CLASS24
🚀 Download the Class24 App here: