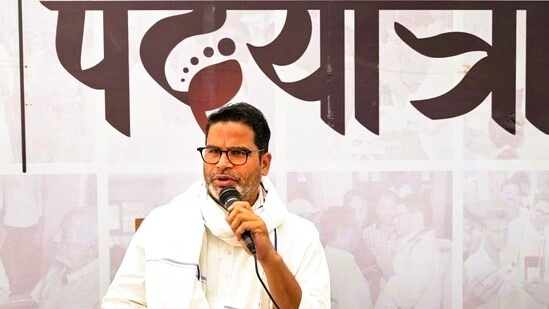 RJD has 0 Lok Sabha MPs, Nitish Kumar losing foothold…': Prashant Kishor on I.N.D.I.A
Only Bihari media talks about Nitish Kumar, the chief minister's former aide remarked.
Mocking both Nitish Kumar and Rashtriya Janata Dal (RJD) over their participation in the joint opposition alliance to take on the ruling BJP in next year's Lok Sabha polls, political strategist Prashant Kishor on Tuesday wondered what role a party with 0 Lok Sabha MPs (RJD) and a leader losing foothold in his own state (Kumar) would play in deciding who runs the country after the 2024 general elections.
"RJD does not have a single MP from Bihar…is it possible for such a party to decide who governs the country? Nitish ji has all of 42 legislators and 16 MPs due to his previous alliance. When you are becoming less powerful by the day, what role can you play in national politics," Kishor says in a video uploaded by his office on X, the social media platform earlier known as Twitter.
Kishor, a former leader of Kumar's Janata Dal (United), who has, however, become a fierce critic of the Bihar chief minister, continued against the veteran politician: "Nitish ji's own condition is so bad, his foothold is shrinking in his own state. If you look at the order of precedence in the opposition bloc, the Congress is the largest party, followed by the Trinamool, then the DMK…parties which govern states with full authority and have 20-25 MPs. Nitish Kumar ji, however, has nothing…he has no party or image left. Only Bihari's media talks about Nitish Kumar…you go to other states, nobody talks about him."
He reiterated that Bihar's ruling Mahagathbandhan (Grand Alliance) is relevant only to the state, and not in the context of national politics.
RJD, JD(U) in opposition alliance
The two parties are among the constituents of the I.N.D.I.A (Indian National Developmental Inclusive Alliance); the coalition members have come together to deny a third straight term at the Centre to prime minister Narendra Modi and the BJP-led ruling National Democratic Alliance (NDA).
The group has held two meetings; the first was hosted by Kumar in Patna on June 23, while the second round of talks took place in Bengaluru in the Congress-ruled Karnataka on July 17 and 18. The third round, at which the number of parties is expected to rise from the current 26, is scheduled for August 31 and September 1 in Mumbai. The Mumbai conference will be hosted by Maharashtra's opposition Maha Vikas Aghadi (MVA) coalition.
Hindustan Times
(National)