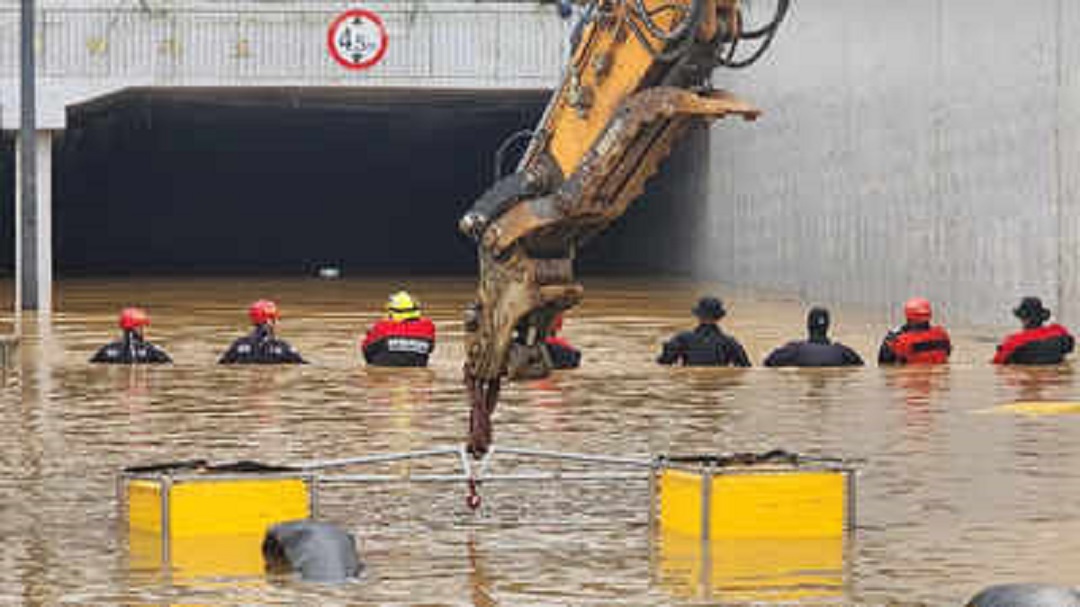 South Korean President Yoon Suk Yeol on Monday blamed authorities' failure to follow disaster response rules as the death toll from days of torrential rain grew to 39, including a dozen people found dead in a submerged underpass.
The rains have pummelled the country's central and southern regions since Thursday as the rainy season that started in late June reaches its peak. The interior ministry has also reported nine people missing and 34 injured across the nation.
Twelve deaths, including three bodies retrieved overnight, occurred in a tunnel in the central city of Cheongju, where 16 vehicles, including a bus, were swamped by a flash flood on Saturday after a river levee collapsed. Nine others were hurt.
The incident fuelled questions over South Korea's efforts to prevent and respond to flood damage. Some drivers who use the road regularly blamed the government for failing to ban access to the underpass even though floods were widely forecast.
Floods have claimed dozens of lives during recent rainy seasons as weather patterns have become more extreme.
The government last year vowed to take steps to better cope with climate change-induced disasters after the heaviest downpours in 115 years pounded Seoul, including the glitzy district of Gangnam, leaving at least 14 dead and flooding subways, roads and homes.
Yoon, just back from an overseas trip, on Monday convened an intra-agency meeting on disaster response and said the situation was made worse because of poor management of vulnerable areas.
"We've repeatedly emphasised access control over dangerous areas and preemptive evacuation since last year, but if basic principles of disaster response are not kept on the spot, it is difficult to ensure public safety," Yoon told the meeting.
He called for authorities to make the utmost effort to rescue victims and vowed support for recovery work and affected families, including designating flood-hit areas as special disaster zones.
The Times of India
(International)