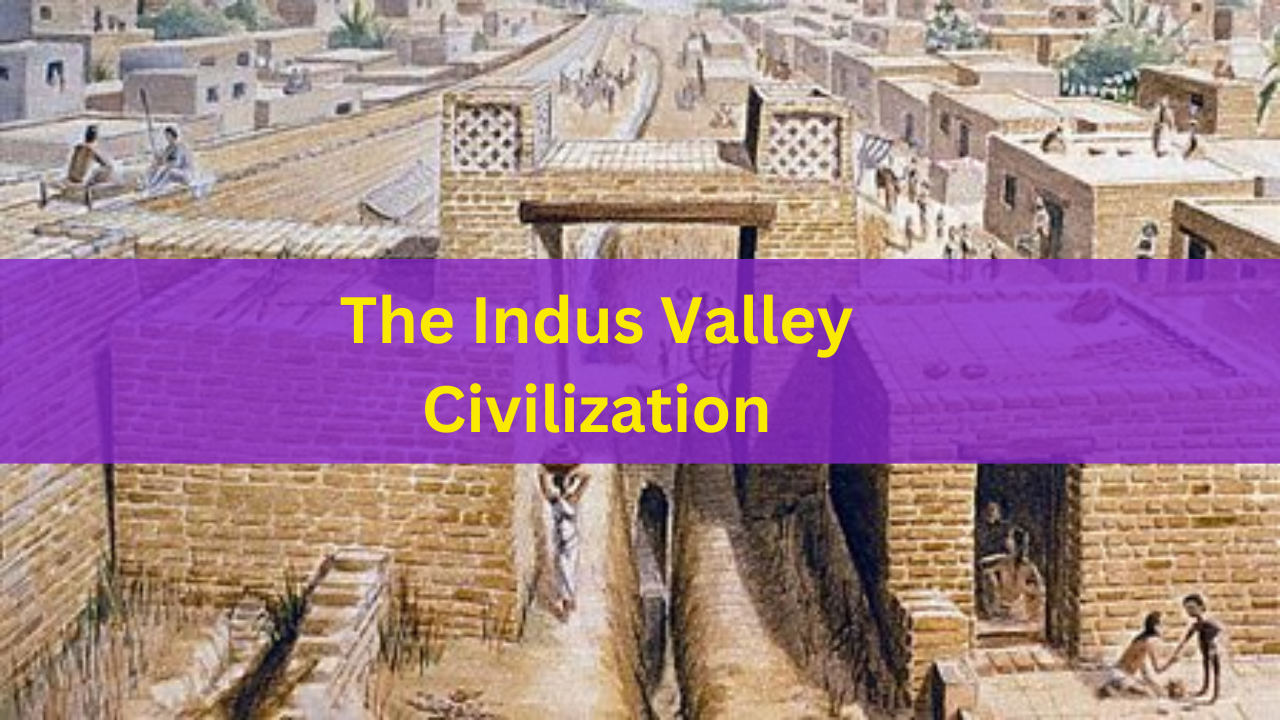 Indus Valley Civilization is the oldest civilization, which spans from 3300 BCE to 1300 BCE. This civilization is also known as the Harappan Civilization, which was named after the discovery of the first site that was excavated by Dayaram Sahni in 1921. In this article, we will provide you with all the relevant and exam-related information in one place for our students. Let's start.
About Indus Valley Civilization:
Period: 3300-1300 BCE
Flourished period: Between 2600 BC and 1900 BC
The flourished period of the Indus Valley Civilization was also known as the Mature Indus Valley Civilization.
This civilization started declining around 1900 BC and disappeared around 1400 BC.
The Indus Valley Civilization is also known as the Harappan Civilization because Harappan was the first site that was excavated.
About Harappan:
Extension: From northeast Afghanistan to Pakistan and northwest India

Discovered by: Dayaram Sahni

Discovered in: 1921

Pre-Harappan civilization has been excavated in Mehrgar, located in Pakistan.
Geographical Extent of Indus Valley Civilization (IVC)
Geographical extension: Western UP, Northern Maharashtra, Gujarat, Haryana, Punjab, Sindh, and Balochistan

It has been extended from Sutkagengor (in Baluchistan) to Alamgirpur (Western UP) from West to East respectively.

It extended from Mandu (Jammu) to Daimabad (Ahmednagar, Maharashtra) from North to South respectively.

The traces of Indus Valley Civilization have also been found as far away as Afghanistan and Turkmenistan.

Most sites founded in this civilization are as follow:

Harappa and Mohenjo-Daro

Lothal (on river Bhogawa in Gujarat)

Kalibanga (on river Ghaggar-Hakra in Rajasthan)

Banawali (on river Ghaggar-Hakra in Haryana)

Dholavira (on river Luni in Gujarat)
Town Planning
As per the archaeologists, the cities located in the Indus civilization were well-planned.
During the excavations at Harappa and Mohenjo-Daro, the archaeologists found that the cities were divided into two parts i.e. the citadel and the outer city.
Citadel: It was built on an elevated area

Outer city: It was built at a lower level
Perfect drainage system
Each house had a well-constructed sink, through which water flowed into the underground drains.
Small and large types of houses
Burnt bricks were used.
Wells and bathrooms provided in houses
Structures found in the Indus cities:
Indus Valley Sites:
Harappa
Location: Punjab Province, Pakistan (on an old bank of Ravi River)

Excavated in: 1921

Excavated by: Daya Ram Sahni

Traces: Chert blades, Pottery, copper/ bronze implements, seals and sealing, terracotta figurines, weights Coffin burials (Only founded in Harrapa)
Mohenjo-Daro
Location: Sindh, Pakistan (Next to the Indus River)

Founded in: 1922

Founded by: R. D Banerjee

Traces: Uniform buildings and weights, Great Bath, Unicorn Seals, Steatite statue of beard man, hidden drains, Ganary, Bronze buffalo, Pashupati Seal steatite seal
Sutkagendor
Location: Baluchistan on Dast river

Founded by: Stein

Founded in: 1929

Traces: Flint Blades, Trade point between Harappa and Babylon, Stone Arrowheads, Stone Vessels, Pottery, Shell Beads
Chanhudaro
Location: Mullan Sandha, Sind (on the Indus river)

Founded in: 1931

Founded by: N G Majumdar

Traces: Bangle Factory, Indus Site with no Citadel, Ink Pot, Bead makers shop, The footprint of a dog chasing a cat, and Cart with a seated driver
Amri Mound
Location: Indus River and the Laki Hills (District of Dadu, Pakistan)

Founded by: N G Majumdar

Founded in: 1929

Traces: Antelope evidence and Rhinoceros' evidence
Kalibangan
Location: Hanumangarh District, Rajasthan (Located on the bank of Saraswati River)

Discovered by: Luigi Pio Tessitori (Italy)

A Ghosh did the most extensive work on Kalibangan in 1951-55 and later by BB Lal & B K Thapar did work on this site in 1961.

Traces: Fire altars were discovered, Ploughed fields, No drainage system, Wooden furrows (for sacrifices), Burials in circular grave and rectangular graves, Bones of camel
Lothal
Location: Gulf of Khambat (Dhalka taluk of Ahmadabad, Gujarat)
It is located along the Bhogava River, which is a tributary of Sabarmati
Excavated in: 1957
Excavated by: S R Rao
Traces: Warehouse, dockyard, Workshop for manufacturing of stone beads, rice husk, evidence of shell working, and a cemetery, Dockyard in 35×22 meters size
Surkotada
Location: Bhuj (Gujarat)
Discovered by: Jagat Pati Joshi of ASI
Discovered and excavated in: 1964-1968
Traces: Beads, Bones of horses, and Stone Covered Beads
Banawali
Location: Fatehabad district of Haryana

Discovered by R S Bisht

Discovered in: 1973-74

Traces: High-quality Barley, Toy plough, Beads, and only city with radial streets
Dholavira
Location: Rann of Kutch (Gujarat)

Discovered by: R S Bisht

Discovered in: 1985

Traces: Exclusive water management

This is the only site, till now, which was divided into three parts i.e. Embankments Stadium, Rock – Cut architecture, and Dam
Other sites of Indus Valley Civilization
Kot Diji
It was a pre-Harappan site

Location: It is located on the left bank of the Sindh River.

Destroyed by: Force or some fire.

Traces: Tar and Statues of bull and mother goddess.
Ropar
Location: Ropar (Punjab)

Excavated by: Y D Sharma
Mitathal
Location: Bhiwani district (Haryana)

Traces: Terracotta cartwheel and Weights of stones
Rakhigarhi
Location: Hissar district (Haryana), located on the bank of Saraswati-Drishadvati rivers

Founded in: 1997

Founded by: Prof. Surajbhan & Acharya Bhagwan Dev

Traces: The team founded the eEvidences of two cultures early harappan and mature harappan.