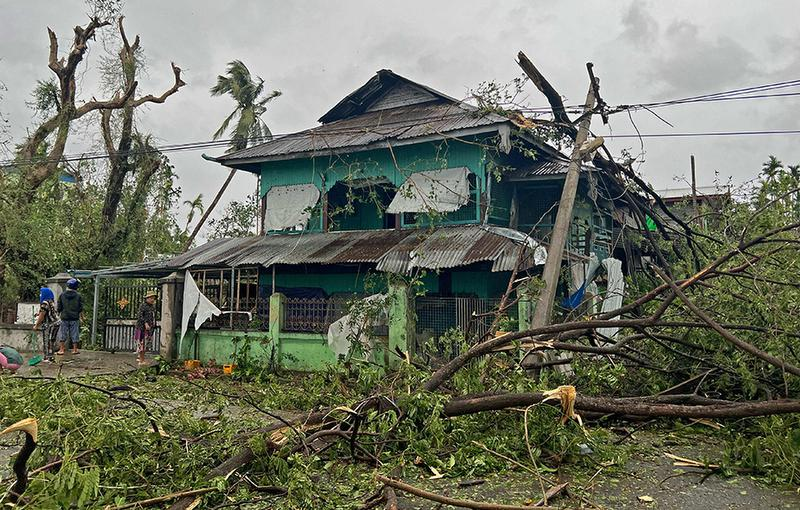 Thousands of people hunkered down on Sunday in monasteries, pagodas and schools, seeking shelter from a powerful storm that slammed into the coast of Myanmar, tearing the roofs off buildings and killing at least three people.
The centre of Cyclone Mocha made landfall on Sunday afternoon in Myanmar's Rakhine state near Sittwe township with wind speeds up to 209 kilometres per hour, Myanmar's Meteorological Department said. Earlier, the storm passed over Bangladesh's Saint Martin's Island, causing damage and injuring people, but turned away from the country's shores before landfall.
Myanmar's military information office said the storm had damaged houses, electrical transformers, cell phone towers, boats and lampposts in Sittwe, Kyaukpyu, and Gwa townships. It said the storm also tore roofs off of sport buildings on the Coco Islands, about 425 kilometres southwest of the country's largest city, Yangon.
Rakhine-based media reported that streets and basements of the houses in Sittwe's low-lying areas were flooded, and that people in low-lying areas were trapped in their houses and unable to communicate.
Much of the area is cut off from telephone and Internet service after high winds crumpled cell phone towers.
More than 4,000 of Sittwe's 3,00,000 residents were evacuated to other cities and more than 20,000 people are sheltering in sturdy buildings such as monasteries, pagodas and schools located on the city's highlands, said a volunteer in Sittwe.
Titon Mitra, the U.N. Development Program representative in Myanmar, tweeted: "Mocha has made landfall. 2 million people at risk. Damage and losses are expected to be extensive. We are ready to respond."
Roxy Mathew Koll, a scientist at the Indian Institute of Tropical Meteorology in Pune, said cyclones in the Bay of Bengal are becoming more intense more quickly, in part because of climate change.
The Hindu
(International)
As always, if you have any questions or feedback, we'd love to hear from you. You can reach us on support@class24.study or
Call support - +91 78498 41445,+91 83029 72601,+91 78775 18210
Let's connect with CLASS24
🚀 Download the Class24 App here:
Related Articles:-
India's best online learning platform
Study govt exam
best platform for government exam preparation
best online coaching for ras
rrb alp technician coaching
nagar palika eo previous year question paper
best ras test series
best test series for ras
best test series for ras pre
ras prelims preparation
ras free study material
govt exam aspirant app for pc
online government exams preparations
rrb alp technician online course
kvs librarian online coaching
ras pre preparation
shipra mam biology
class 24
class24 app
class 24 bhunesh sir
class 24 app
class 24 app download for pc
study 24
ras preparation strategy
rajasthan informatics assistant coaching
free ras study material
rrb alp technician online coaching
kvs librarian online coaching,
best online test series for ras
best online test series for ras
top exam preparation portal in India< best YouTube channel for ras preparation
best online study platform
how to start ras exam preparation
best online platform for govt exam preparation
best online course for competitive exams
best online coaching for kvs
competitive exam app
free online competitive exam preparation
best online classes for ssc chsl
defense exam preparation
best online test platform
best study website
best learning platform in India
best online classes for ssc chsl