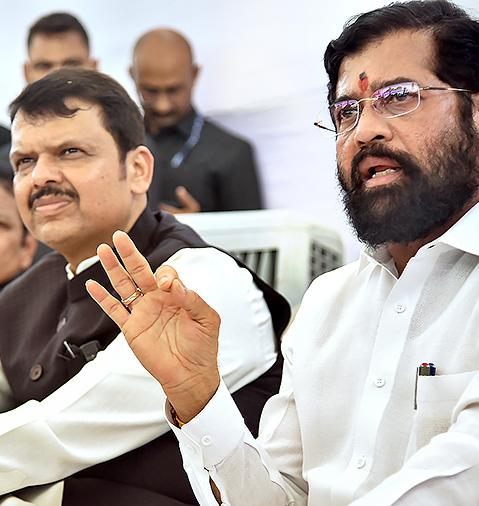 A day after a row over an advertisement that cited a survey claiming that Maharashtra Chief Minister Eknath Shinde was more "popular" than Deputy CM Devendra Fadnavis, the Shiv Sena faction led by Mr. Shinde went into damage control mode. On Wednesday a second advertisement featuring Mr. Shinde and Mr. Fadnavis as the face of the State's development was published in Marathi dailies.
Besides Shiv Sena founder Bal Thackeray, who was missing from Tuesday's ad, the latest advertisement also features Prime Minister Narendra Modi and Union Home Minister Amit Shah, along with Mr. Shinde's political mentor, the late Shiv Sena leader Anand Dighe.
However, only nine Ministers from the Shinde camp are featured at the bottom of the page.
'BJP workers upset'
Tuesday's advertisement had given rise to talks of a rift between the two Mahayuti (grand alliance) partners.
Despite the Shinde camp's attempt at pacifying the Bharatiya Janata Party, Maharashtra unit BJP chief Chandrashekhar Bawankule said it had upset a section of the workers who naturally rooted for Mr. Fadnavis as CM given that the latter had already occupied the top post for five years (2014-19).
Minor differences
He, however, was quick to add that the BJP-Shinde Sena alliance remained "strong" despite "minor differences" and that the ruling coalition would win the 2024 Lok Sabha and State Assembly elections.
"The issue is over and care must be taken to ensure that this is not repeated again," he said on Wednesday.
Shinde camp Minister Shambhuraj Desai, downplayed issue and said Tuesday's advertisement had been issued by a 'well-wisher' (of the Shinde faction) and the second one was officially from the Shinde group.
Meanwhile, the Opposition Maha Vikas Aghadi had a field day targeting both the ruling parties with the Leader of Opposition Ajit Pawar demanding to know who was this 'well-wisher' of the Shinde camp.
The Hindu
(National)