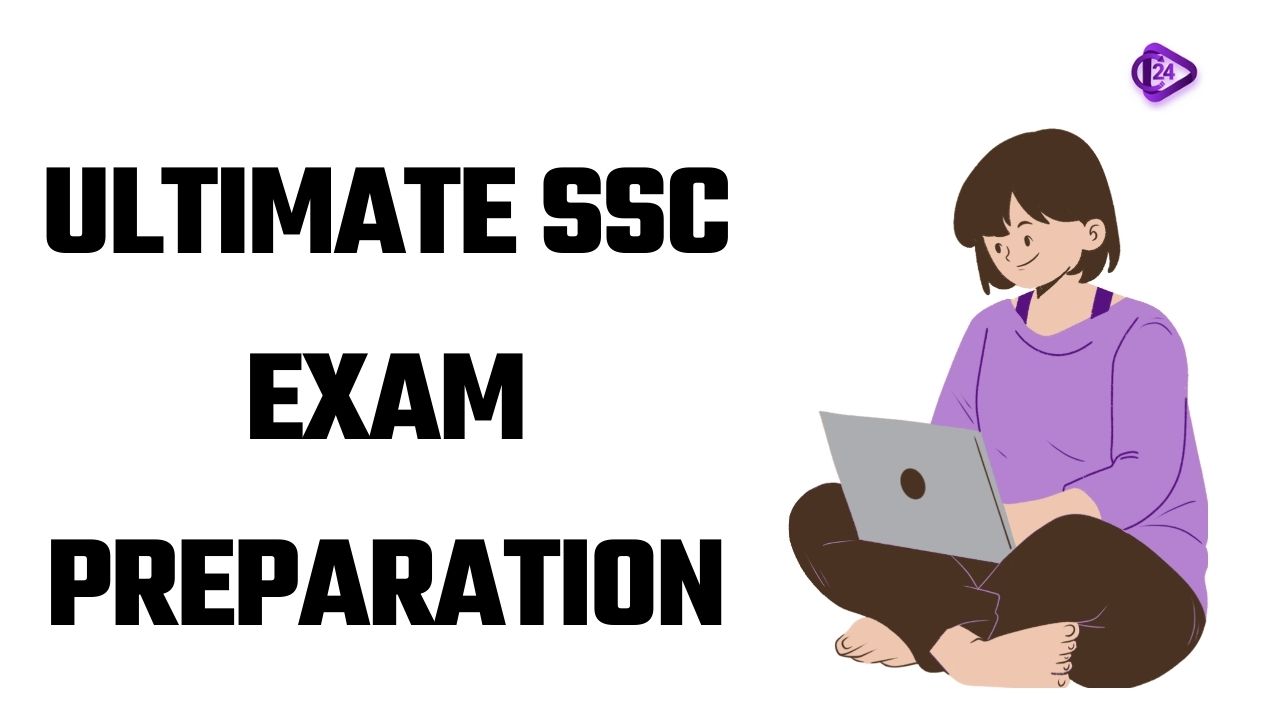 Are you planning to appear for the SSC (Staff Selection Commission) exam? Are you in search of a reliable and effective online coaching platform to help you excel in your preparation? Look no further! In this article, we will introduce you to Class24, an exceptional online coaching platform designed specifically for SSC exam aspirants. Let's explore how Class24 can be your ultimate companion in achieving success in the SSC exam.
1. Introduction: Importance of Coaching for SSC Exam
The SSC exam is a highly competitive and sought-after exam for individuals aspiring to secure government jobs in various departments and ministries. The comprehensive syllabus and the changing exam patterns make it challenging to prepare for the SSC exam independently. This is where coaching institutes play a vital role in providing structured guidance, study materials, and strategies to crack the exam.
2. Advantages of Online Coaching for SSC Exam
Online coaching has gained immense popularity among SSC exam aspirants due to its numerous advantages, including:
Flexibility: Online coaching allows you to study at your own pace and convenience. You can access the study materials and lectures anytime, anywhere, eliminating the need for physical attendance.

Expert Faculty: Online coaching platforms like Class24 bring together experienced faculty who have in-depth knowledge of the SSC exam patterns and syllabus. They provide expert guidance and support throughout your preparation journey.

Cost-Effectiveness: Online coaching is often more affordable compared to traditional classroom coaching. It eliminates the need for commuting or relocating, reducing additional expenses.
3. Introducing Class24: Your Online Learning Solution
Class24 is a leading online coaching platform specifically designed for SSC exam preparation. It offers comprehensive courses, expert guidance, and a personalized learning experience to help you excel in the exam. With Class24, you can access high-quality study materials, interactive video lectures, and practice tests to enhance your knowledge and skills.
4. Key Features of Class24
Class24 offers a range of features that make it an ideal choice for SSC exam preparation:
4.1 Comprehensive Course Content
Class24 provides a well-structured and extensive course curriculum that covers all the subjects and topics relevant to the SSC exam. The study materials are designed by subject matter experts, ensuring that you receive the most accurate and updated content.
4.2 Experienced Faculty
The faculty at Class24 consists of experienced educators and subject matter experts who have a thorough understanding of the SSC exam pattern. They employ effective teaching methodologies, making complex concepts easier to comprehend.
4.3 Interactive Learning Environment
Class24 offers an interactive learning environment through live classes and discussion forums. You can actively engage with faculty and fellow aspirants, ask questions, clarify doubts, and participate in discussions, simulating the classroom experience.
4.4 Mock Tests and Assessments
Regular mock tests and assessments provided by Class24 allow you to evaluate your progress and identify areas that require improvement. These tests are designed to mirror the actual SSC exam, giving you a real-time exam experience.
4.5 Doubt Resolution and Support
Class24 understands the importance of resolving doubts promptly. They provide a dedicated doubt resolution system where you can seek clarification on challenging topics from expert faculty. Additionally, you can avail yourself of support through email or chat for any technical or academic assistance.
SSC Exam 2023
The Staff Selection Commission has released an updated SSC Exam calendar 2022-23 on July 6th 2022. Given below are the highlights of the SSC exam calendar uploaded by the commission
SSC Exams 2023

SSC Exam Names

SSC Exam Notification Date

SSC Exam Date

Combined Graduate Level Examination, 2023

April 1, 2023

June – July 2023

Combined Higher Secondary (10+2) Level Examination, 2023

May 9, 2023

July – August 2023

Multi Tasking (Non-Technical) Staff Examination, 2023

June 14, 2023

August – September 2023

Sub-Inspector in Delhi Police and Central Armed Police Forces Examination, 2023

July 20, 2023

Paper I Exam Date – October 2023

Junior Engineer (Civil, Mechanical, Electrical and Quantity Surveying & Contracts) Examination, 2023

July 26, 2023

Paper-I Exam Date – October 2023

Stenographer Grade 'C' & 'D' Examination, 2023

August 02, 2023

CBE* Exam Date – October-November 2023

Constables (GD) in Central Armed Police Forces (CAPFs), NIA, SSF and Rifleman (GD) in Assam Rifles Examination, 2022

October 27, 2022

CBE* Exam Date – 10 January to 14 February 2023
5. How Class24 Supports SSC Exam Preparation
Class24 employs various strategies to support your SSC exam preparation:
5.1 Subject-wise Preparation
Class24 offers subject-wise lectures, study materials, and practice tests. This allows you to focus on each subject individually, ensuring a thorough understanding and mastery of the concepts.
5.2 Exam Pattern Understanding
Understanding the exam pattern is crucial for SSC exam success. Class24 provides detailed insights into the exam pattern, marking scheme, and time management techniques, empowering you to approach the exam with confidence.
5.3 Regular Practice and Assessment
Class24 emphasizes regular practice through assignments, quizzes, and mock tests. This helps you improve your speed, accuracy, and problem-solving abilities, key factors in excelling in the SSC exam.
5.4 Time Management Techniques
Efficient time management is vital for success in the SSC exam. Class24 equips you with proven time management techniques and study schedules, allowing you to optimize your preparation time and achieve better results.
5.5 Exam Strategies and Tips
Class24 provides valuable exam strategies, tips, and tricks to tackle different sections of the SSC exam effectively. These strategies are based on the expertise of experienced faculty members and successful candidates.
6. Success Stories: Testimonials from SSC Achievers
Class24 takes pride in the success of its students. They feature testimonials from SSC achievers who have successfully cracked the exam with the help of Class24. These success stories serve as motivation and inspiration for aspirants, showcasing the effectiveness of the coaching platform.
7. Why Choose Class24 for SSC Exam Preparation?
Class24 stands out among the many online coaching platforms for SSC exam preparation due to its unique features:
Conclusion
When it comes to preparing for the SSC exam, Class24 emerges as the ideal online coaching platform. With its comprehensive course content, experienced faculty, interactive learning environment, and extensive support features, Class24 provides you with the necessary tools and guidance to excel in your SSC exam preparation. Get started with Class24 today and embark on your journey towards success in the SSC exam.
FAQs (Frequently Asked Questions)
1. Is Class24 suitable for beginners in SSC exam preparation?
Yes, Class24 is suitable for beginners as well as those with prior SSC exam preparation experience. The courses are designed to cater to students at various levels of proficiency.
2. Can I access Class24 courses on my mobile device?
Yes, Class24 is accessible on both desktop and mobile devices. You can download the Class24 app and access the courses on your smartphone or tablet.
3. Are the study materials provided by Class24 up to date?
Yes, Class24 regularly updates its study materials to ensure they align with the latest SSC exam syllabus and pattern. You can rely on the accuracy and relevance of the study materials provided.
4. Can I interact with faculty members in Class24?
Yes, Class24 provides various opportunities to interact with faculty members. You can participate in live classes, ask questions during the sessions, and utilize the doubt resolution system to seek clarification from the faculty.
5. Does Class24 offer a money-back guarantee?
Class24 offers a satisfaction guarantee. If you are not satisfied with the coaching platform within a specified period, you can avail of a refund according to their terms and conditions